Revived Dutch Coalition Bid With Greens Fails Over Migration
By
Four-Way Talks with Greens collapsed previously four weeks ago

At least four parties are needed for majority in lower house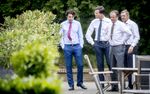 There's still no coalition government in sight in the Netherlands after an attempt to revive formal talks on a four-party tie-up involving the Greens broke down late Monday.
Three months after the national election, preliminary talks collapsed over immigration policy, as they did in a previous bid to get the four parties to form an administration with a parliamentary majority four weeks ago.
The leader of the Greens, Jesse Klaver, could not sign off on a proposal to allow possible future deals to return migrants to North African countries similar to one the European Union reached with Turkey, lead negotiator Herman Tjeenk Willink said in The Hague.
"It is a pity that this failed,'' Tjeenk Willink told reporters, saying he won't resign as lead negotiator "as my task is not yet finished.''
The March 15 election left the Dutch political landscape deeply divided with 13 parties taking up the 150 seats in the Dutch lower house, meaning at least four parties are needed to form a government with parliamentary majority.
Soon after the vote, discussions started about a coalition between Prime Minister Mark Rutte's Liberals, the Christian Democrats, the centrist liberal D66 party and the Greens. But after weeks of negotiations those discussions, which were led by Health Minister Edith Schippers, collapsed over migration policy.
Catshuis Talks
Attempts to find new combinations also failed as well as all options were blocked by one or more parties. At that point, the Dutch parliament appointed veteran politician Tjeenk Willink as the new negotiator in a bid to break the impasse. He has since held formal talks within the parliament, as well as convening more informal meetings at his home and at the official residence of the prime minister, the Catshuis, away from media.
Time to form a new government is now getting tight, with the summer break starting in just five weeks and budget plans for next year due in September. The possibility of a minority government is increasingly realistic, even though it not the preference of most parties or Rutte.
The chances that Finance Minister and Eurogroup chief Jeroen Dijsselbloem's Labor Party might join the Liberals, the Christian Democrats and D66 are slim, as the party suffered the worst electoral loss in Dutch history in March.
Geert Wilders, whose anti-Islam Freedom Party came second in the election but fell short of expectations, resorted to Twitter to argue again that he should be at the negotiating table. Other parties have said they don't want to work with him.
While the coalition-forming process has already taken longer than the average of 72 days since World War II, the latest attempt is still well short of the Dutch record of 208 days.
Before it's here, it's on the Bloomberg Terminal.
LEARN MORE