May's Tories Head for New Civil War Over Europe
By and
David Davis: May's Tory rivals 'self-indulgent' and must stop

Other ministers plot softer Brexit, want U.K. in single market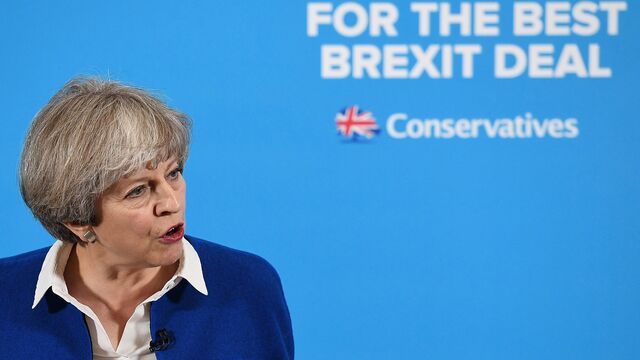 The U.K.'s governing Conservative Party headed for a fresh civil war over Europe as Theresa May prepared for a showdown with her lawmakers that could hasten the end of her premiership.
The botched election campaign opened a new front in the Tories' decades-long internal conflict over Britain's membership of the European Union. Some of May's most senior ministers are plotting to soften her approach to leaving the bloc, potentially keeping the country in the single market and customs union. By contrast, hard-line Brexit supporters are determined to force through the prime minister's plans for a clean break.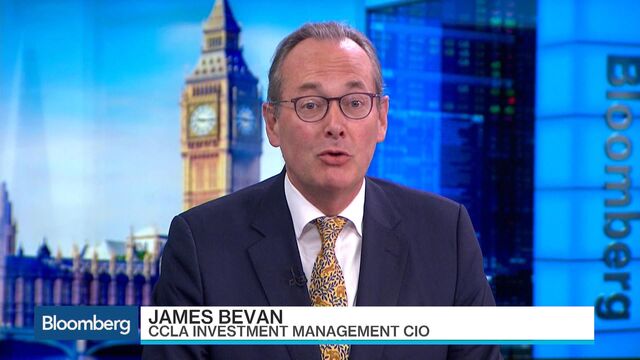 Two potential leadership rivals, Foreign Secretary Boris Johnson and Brexit Secretary David Davis, pledged their loyalty to May, saying it's the wrong time for a change at the helm or another general election. Yet the mood in Westminster remained that she's on borrowed time with the question only when rather than if she will be deposed.
"Her MPs could call time on her premiership at any moment," said Mujtaba Rahman, managing director at the Eurasia Group. "More likely, however, is that she would avoid such humiliation, bow to the inevitable and announce her resignation."
May presided over a meeting of her new cabinet on Monday, then went to Parliament to hear first-hand the anger of Tory lawmakers who blame her for the catastrophic election campaign that cost the party its parliamentary majority, at a meeting of the so-called 1922 Committee.
The atmosphere of uncertainty surrounding May's government was heightened when May's new deputy, Damian Green, confirmed that Queen Elizabeth II's speech to Parliament setting out the government program might be moved from the planned date of June 19. The speech can't be finalized until agreement has been reached with Northern Ireland's Democratic Unionist Party to give the Conservatives enough support to win votes in Parliament, Green told reporters.
Read more: The Brexit scenarios from Norway to no deal
In a round of broadcast interviews on Monday, Davis -- a leading euro-skeptic -- stuck by May's original plan for leaving the single market in return for reclaiming control of borders and laws.

"The reason for leaving the single market is not particularly because we want to, but because the single market requires the free movement of people," Davis told LBC radio.
He said questions over May's future are "unbelievably self-indulgent" and vowed he would work to entrench her in her position so she can deliver the best Brexit deal for Britain. "What you're going to see over the next weeks and months is Theresa May at her best," he told the BBC. 
However, he conceded that last week's election result "clearly makes it a bit more difficult to start" Brexit negotiations, which are scheduled to begin in a week's time.

May's plans have been thrown into chaos along with the U.K.'s entire political landscape by Thursday's vote. The premier was unable to carry out wholesale cabinet changes that had been mooted before the election, with most ministers staying in the same jobs. She even resorted to giving her former adversary Michael Gove a role in her cabinet, after firing him last year.

The appointment of Green, a passionate pro-European, as her deputy is being taken as a sign that she wants to keep anti-Brexit lawmakers on side.
Some of May's own ministers see opportunities to use her weakness to soften plans for Brexit, even suggesting the U.K. could remain in Europe's single market and customs union.
May is now so reliant on the support of political rivals inside and outside her party that she'll be unable to force through her vision for Brexit, according to three senior government officials who didn't want to be identified discussing sensitive matters.
On Sunday, though, prominent euro-skeptic Tory lawmaker Bernard Jenkin said his pro-EU colleagues should "shut up" and stop trying to overturn the Brexit referendum.
May will meet with DUP leader Arlene Foster in London on Tuesday in the hope of finalizing a deal. She needs the support of the DUP's 10 lawmakers to make up for the Tories' nine-seat shortfall in the Commons.

However, some Conservatives, including their Scottish leader, Ruth Davidson, a lesbian, have raised concerns about the DUP's policies of opposition to abortion and same-sex marriage.
May is already planning to drop other pledges from the Tory manifesto that would be too difficult to get through Parliament, the Daily Mail newspaper reported, without saying where it got the information. Davis conceded that some commitments could be "pruned away."
Any change of date for the queen's speech will have to be coordinated with the royal household. June 19 is the only day next week that doesn't clash with the queen's annual attendance at the Royal Ascot horse-racing meeting. The monarch, a lifelong racing enthusiast, traditionally begins each race day by driving down the course in an open carriage.
May was certain to be challenged over the disastrous election result in her appearance before the 1922 Committee and was also set to face demands to spell out the details of her proposed deal with the DUP.
"Obviously my colleagues are very disappointed," Graham Brady, the committee chairman, told Sky News. Even so, he said, "I don't think there's any clamor for another election and certainly I don't see any clamor from my colleagues for another leadership election."
— With assistance by Nejra Cehic, Robert Hutton, Svenja O'Donnell, and Charlotte Ryan
Before it's here, it's on the Bloomberg Terminal.
LEARN MORE