Mattis Warns on Afghan Fight, Criticizes Congress in Testimony
By and
Defense chief calls North Korea 'clear and present' danger

Mattis makes pitch for $639 billion Pentagon spending plan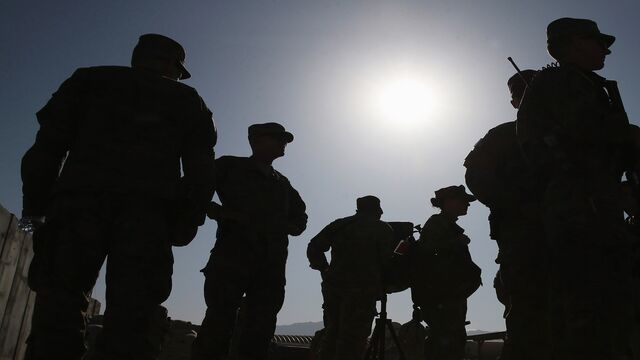 Defense Secretary James Mattis warned lawmakers that the U.S. isn't winning the war in Afghanistan and he criticized Congress for treating the Pentagon's budget "with lassitude, not leadership."
Mattis told the Senate Armed Services Committee Tuesday that he expects to brief Congress by mid-July on a new strategy in Afghanistan that includes a still unspecified increase in U.S. forces, which now total about 8,400. More than 15 years since the U.S. sent troops to oust the Taliban leadership, the security situation in the country has been rapidly deteriorating, with terror attacks occurring in the heart of Kabul and U.S. troops continuing to perish.
Mattis made the comments as part of a second day of hearings before lawmakers on the Trump administration's request for a $639 billion defense budget for fiscal year 2018.
"I need bipartisan support for this budget request," Mattis, a retired Marine Corps general, said in testimony Monday night before the House Armed Services Committee.
By failing to pass a defense spending bill on time in recent years and letting budget caps remain in the law, "Congress sidelined itself from its active constitutional oversight role," Mattis said. "It has blocked new programs, prevented service growth, stalled industry initiative, and placed troops at greater risk."
The two most recent agreements to waive the budget caps allowed increases for both defense and domestic spending, as demanded by Democrats. But President Donald Trump's fiscal 2018 budget request calls for domestic spending cuts to offset defense spending that's about $52 billion over the budget cap.
Mattis urged lawmakers to enact a full year of funding to avoid "yet another harmful continuing resolution." The Tuesday Senate hearing was the second of four congressional meetings this week on the defense budget featuring Mattis, Marine General Joseph Dunford, the chairman of the Joint Chiefs of Staff, and Pentagon comptroller David Norquist.
Pushing back on questions about the role of U.S. forces in Afghanistan, Mattis said, "The problems that originate there don't stay there," a reference to the country's history as a training ground for terrorist attacks in other regions.
Despite hundreds of billions of dollars and the loss of more than 2,000 U.S. troops since 2001, Afghanistan remains in the grip of a war with "shockingly high" death rates among security forces and a record number of casualties among civilians, the U.S. government watchdog monitoring the country's reconstruction efforts said earlier this year. Civilian casualties rose to 11,418 last year, the highest since the United Nations began keeping records in 2009, said inspector general John Sopko.
Asked to define winning in Afghanistan, Mattis said "the Afghan government with international help will be able to handle the violence, drive it down to a level that local security forces can handle."
For this, the Afghans will likely require a U.S.-allied residual force for training and provide "high-end capabilities" so that "we can keep this at a level of threat local government and local security forces can handle." But U.S. strategy "will require a change in our approach from the last several years if we're to get to it to that position," Mattis added.
North Korea
Mattis's testimony painted a world in turmoil -- with both North Korea and Islamic State posing a "clear and present danger."
"North Korea's continued pursuit of nuclear weapons and the means to deliver them has increased in pace and scope," Mattis said. "The regime's nuclear weapons program is a clear and present danger to all."
Dunford told lawmakers if war broke out on the Korean Peninsula, Seoul residents early on would face casualties "unlike anything we've seen in 60 or 70 years" and that the U.S. could do little to mitigate the heavy losses.
Base Closings
Mattis also said Congress should allow another round of domestic military base closings in 2021. Proposals to close unneeded bases have been offered and rejected repeatedly by lawmakers who organize to save bases that bolster local economies.
"We forecast that a properly focused base closure effort will generate $2 billion or more annually over a five year period -- enough to buy 300 Apache attack helicopters, 120 F/A-18E/F Super Hornets, or four Virginia-class submarines," Mattis said.
But Mattis will face skeptics including Republican Representative Kay Granger of Texas, who heads a House Appropriations defense subcommittee where the defense secretary will testify on Thursday.
Granger told a Bloomberg Government forum last month that she'd support another round of base closing only if the Defense Department could demonstrate savings from the four prior rounds in 1988, 1991, 1993 and 1995. "I've never seen it save money," she said. "Show me the savings" and that the new proposal is better than those in past, she said, "and I'm there."
Before it's here, it's on the Bloomberg Terminal.
LEARN MORE