Italy's Anti-Euro Five Star Movement Suffers Voting Setback
By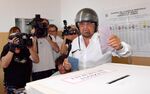 Italy's opposition Five Star Movement suffered heavy setbacks in local elections on Sunday, dimming the party's prospects of leading the national government after parliamentary elections next year.
Five Star, led by former comedian Beppe Grillo, failed to make it to the second round of voting in Genoa, Palermo, Parma and Verona, according to projections. Centrist-oriented parties fared better in the approximately 1,000 towns and cities that voted, with the second round scheduled for June 25. Turnout was just over 60 percent.
A multi-party deal on a new electoral law unraveled last week, making it highly unlikely that a snap national vote will be held this year. Investors had been concerned that an election in 2017 could lead to either a hung parliament or a win for the anti-establishment Five Star. The current legislature expires in 2018.
Speculation in the last month that Italy was headed toward elections as early as September drove up bond yields and pushed down stocks. Investors had said that a potential agreement on an electoral law was a negative given that a non-market-friendly party could win. Five Star has called for a referendum on Italy's membership in the euro.
On Italy's stock market, the FTSE MIB benchmark index fell 0.6 percent as of 11:02 a.m. Monday in Milan. The yield on the Italian 10-year bond fell to 2.02 percent, narrowing the spread with equivalent German bunds to 177 basis points from more than 200 basis points in the middle of last week.
The ruling Democratic Party and the Five Star had been neck-and-neck in national opinion polls, with each drawing about 30 percent support.
— With assistance by Lorenzo Totaro
Before it's here, it's on the Bloomberg Terminal.
LEARN MORE