markets
Five Things You Need to Know to Start Your Day
Get caught up on what's moving markets.
By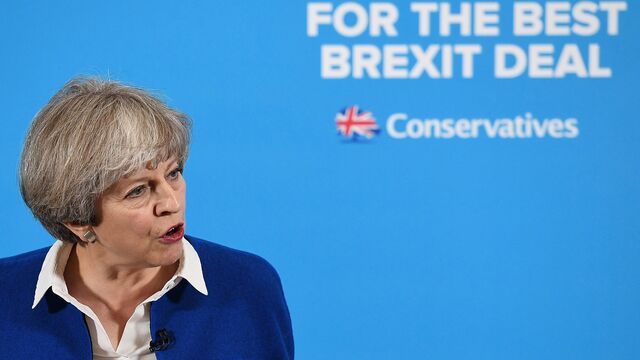 Want to receive this post in your inbox every morning? Sign up here
A big week for central banks begins with tech stocks tanking, Theresa May fighting for her political survival, and Emmanuel Macron shoring up his position in parliament. Here are some of the things people in markets are talking about today.
May chastened
It's been a punishing weekend for U.K. Prime Minister Theresa May, as she raked through the pieces of the electoral gamble that ended up weakening her party, her country's negotiating position, and herself. Today she chairs a cabinet meeting composed of many familiar faces, after she was forced to keep prominent Brexiteers on board to allay any revolt against her leadership. Sterling traders remained caught between interpreting the result as a route to a softer Brexit, or a mess. Consumer-spending data showing the first year-over-year drop since 2013 didn't help, dragging the currency down by as much as 0.4 percent. 
Tech tantrum
Samsung Electronics Co., ASML Holding NV, and Tencent Holdings Ltd. pulled down benchmark indexes in Europe and Asia this morning, expanding the reach of last week's U.S.-based technology selloff. The S&P 500 technology index plunged 2.7 percent Friday as companies from Apple Inc. to Nvidia Corp. tumbled. Changes are afoot elsewhere in tech after Sunday's six-hour meeting at Uber Technologies Inc, while Taylor Swift has made her back catalog available on streaming services including Spotify Ltd., which may or may not be readying itself for an IPO. 
Nouveau regime
The rout of France's political old guard gathered pace over the weekend, with President Emmanuel Macron's Republic On The Move party poised to command a sweeping majority of seats in the lower house of parliament. The results need to be confirmed in a final round of voting next Sunday, but so far indicate an entirely redrawn political map — amid record low turnout. The results give the president carte blanche to pursue the labor-market overhaul that is high on his agenda. Meanwhile south of the border, Italy's anti-euro Five Star movement suffered a setback in Sunday's local elections, helping Italian bonds climb alongside OATs. 
Markets stumble
U.S. stock futures pointed to a tech-led drop at the open, with Apple Inc. down 2.2 percent in pre-market trading. By 5:56 a.m. Eastern Time, the Karachi 100 Index had lost 3.6 percent, more than any equity index worldwide, as corruption allegations plague Pakistan's Prime Minister Nawaz Sharif. Oil futures were little changed, amid speculation that sustained drilling by U.S. producers will blunt efforts by OPEC and Russia to re-balance an oversupplied crude market, while palladium extended its claim to be this year's best performing commodity.
Coming up...
It's a major week in the world of central banking. The Federal Reserve is scheduled to announce its policy decision Wednesday, followed by the Bank of England and the Swiss National Bank on Thursday, while the Bank of Japan rounds up the week on Friday. Even though the Fed is nearly unanimously expected to hike interest rates this Wednesday, Wall Street strategists have trimmed their estimates for how high 10-year Treasury yields will be at year-end. 
What we've been reading
This is what's caught our eye over the last 24 hours.
Before it's here, it's on the Bloomberg Terminal.
LEARN MORE