China's Bond Link Faces Familiar Hurdles for Wary Foreigners
Bloomberg News
Capital curbs, yuan control, thin trading flagged as issues

'Very few' overseas investors will take part at start: E Fund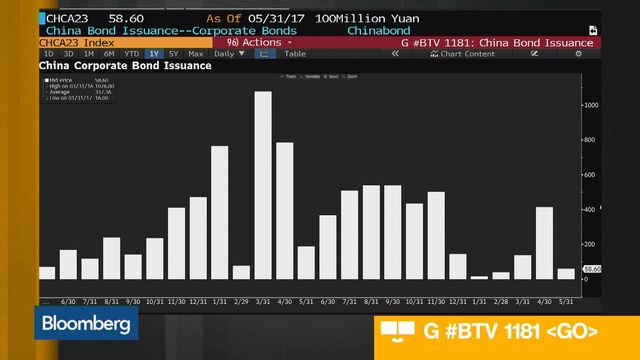 China is about to broaden foreign access to its $10 trillion debt market -- but international investors are likely to be wary.
The bond connect with Hong Kong is in the final stages of preparation, Charles Li, chief of the city's bourse operator, said on Monday. Overseas money managers own less than 2 percent of Chinese debt, leaving plenty of scope for increased inflows.
Still, the new channel for foreigners to access the world's third-biggest bond market is getting a mixed reception. E Fund Management (H.K.) Co. and Shenwan Hongyuan Asset Management see persistent obstacles to international participation. They include capital controls, lack of faith in mainland credit ratings and concerns over liquidity -- volume in China's bond market is less than 10 percent of that in the U.S.
"The trading link will attract a limited amount of additional inflows," said James Yip, a Hong Kong-based money manager at Shenwan Hongyuan. "There are still a lack of details and a lot of uncertainties, and issues such as thin liquidity. Foreign investors will most likely wait and watch, and the connect isn't likely to become a big hit right away."

Pacific Investment Management Co., too, doesn't see a sudden surge in demand via the connect. Sally Wong, chief executive of the Hong Kong Investment Funds Association, said her group's members see the bond connect as another channel to access China's capital markets. The minimum size of the offers that overseas investors need to submit will be 1 million yuan ($147,126), according to trading rules that the China Foreign Exchange Trade System published Monday. The securities for northbound trading will include central and local government, central bank, financial and corporate bonds.
Here are some of the major issues flagged by foreign investors and analysts:
Capital Curbs
China has been working to staunch outflows, going so far as to limit mainland companies' overseas acquisitions, curbing money transfers to offshore accounts and increasing scrutiny on citizens' foreign-currency conversions. The moves, criticized by global investors and companies, mean foreign funds are worried they won't be able to move proceeds abroad if they use the bond connect to buy onshore securities, said Zhu Qi, a portfolio manager at E Fund Management in Hong Kong.
"Foreign investors still need to re-build confidence in the Chinese government and regulators, which will take more time," said Zhu. Due to the curbs and yuan depreciation, "very few overseas funds will use the northbound route at the moment."
Yuan Control
Beijing appears to be trying to regain some control over the yuan, with officials saying on May 26 that they were considering adding a new factor to the formula used to determine the daily reference rate. The shift was viewed by analysts as a way for China to keep the yuan stable and dilute the market's role. That would be a concern because currency flexibility is becoming an increasingly important factor in investment decisions, says Luke Spajic, Pimco's head of portfolio management for emerging Asia.
"With a managed currency, the risk premia can be compressed for long periods of time, and when the currency weakens, large volatility and losses can occur," Spajic said. "The counter-cyclical factor adds more complexity to currency analysis and valuation."
Thin Trading
Trading volumes in China's bond market are about 7 percent of those in the U.S., with recent efforts to curtail financial leverage further denting liquidity, data compiled by Bloomberg show. In China, banks dominate debt trading, and they have less impetus to buy and sell their holdings than money managers do. That situation has worsened recently as a spike in debt yields prompted Chinese companies to scrap a record 200 billion yuan ($29 billion) of bond sales over the past two months.
"The market efficiency will be very low when trading is thin," said Shenwan Hongyuan's Yip. Fluctuations in liquidity can be wilder in China than in developed nations, as local traders cut positions at the same time, he added.
Credit Ratings
Foreign investors have long been skeptical about Chinese rating companies, as they tend to give inflated assessments amid fierce competition, says David Qu, a markets economist in Shanghai at Australia & New Zealand Banking Group Ltd. Foreign funds probably won't be interested in any debt graded lower than AA+, he said. Local rating firms, including Dagong Global Credit Rating Group and China Chengxin International Credit Co. have said that their Chinese peers are compromising evaluations to win business.
In addition to the above, HSBC Holdings Plc has also flagged what they called China's "relatively tedious" trade settlement procedures, saying the connect should be linked to international settlement systems as a way of luring foreign interest. For Goldman Sachs Group Inc. the connect has immense potential, but more precise details on exact trading procedures and hedging feasibility is needed before they can assess what the implication for inflows will be.
— With assistance by Tian Chen, Kana Nishizawa, Benjamin Robertson, and Robin Ganguly
Quotes from this Article
Before it's here, it's on the Bloomberg Terminal.
LEARN MORE