The World's Unlikeliest Socialists
Angered by Brexit, London's Kensington backs Corbyn.
By and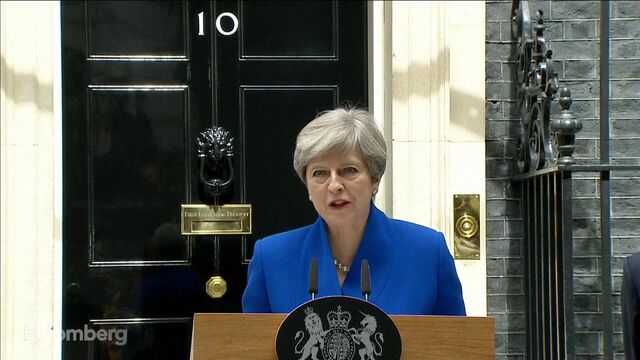 The residents of Kensington make unlikely socialists.
Kensington Palace is the official residence of Britain's future king, William. The West London district is home to bankers, celebrities and aristocrats of all nations drawn to its immaculate Georgian squares, tasteful luxury shops and easy access to the green spaces of Hyde Park. Even in one of the world's most expensive cities, the cost of admission is eye-watering: 1.3 million pounds ($1.7 million) is the price of the median home, with the finer places going for many times that.
Despite those blue-blooded credentials, Kensington rejected the Conservative Party for the first time ever in last week's election. The Labour Party, led by unabashed socialist Jeremy Corbyn, won by 20 votes out of 39,000.
The stunning rebuff for a party that took 52 percent against Labour's 31 percent just two years ago represents the latest example of how Brexit has upended British politics. Conservative Prime Minister Theresa May's appeal to nationalism felt like a slap in the face to a district that relies on international flows of talent, ideas and money. Billionaires like Len Blavatnik and Roman Abramovich own homes there, as do boldfaced names like David Beckham and Robbie Williams.
"For people here to vote Labour is a huge shock," said Paul Thompson, a 58-year-old academic out for a Sunday stroll on Gloucester Road, whose upmarket businesses have names like Coco Momo and Fait Maison. Thompson marked his ballot "for Labour, not for Corbyn" because of May's rhetoric. "This city has incredible financial industries, creative industries, and phenomenal universities, and it all depends on being open to the world."
Borwick's Brexit
It didn't help that the Conservatives' candidate, Lady Victoria Borwick, was a fervent advocate of leaving the European Union -- in contrast to a pair of ex-Tory political leaders who live in the Kensington constituency, former Prime Minister David Cameron and his chancellor of the exchequer, George Osborne.
Local Conservatives who supported staying in "did not want to be represented by a Brexit cheerleader," said Peter Marshall, a legal compliance manager who ran against Borwick as an independent candidate.
Eight days before the election, Borwick was booed at a candidates' forum. In the end, it took three recounts before Labour's Emma Dent Coad was declared the winner.

Decoding the Results: How May's Snap Election Led to a Hung Parliament
'Culture War'
Brexit has added an unpredictable new dimension to British politics, scrambling traditional political affiliations, said Tony Travers, a political scientist at the London School of Economics. "Brexit released a culture war," he said. That means citizens who supported remaining in the EU "were prepared to say, 'even though this may not be in my best interests, and even though I'm not in favor of Jeremy Corbyn in any way, I'll vote for Labour because it's the only of expressing my revulsion or disgust at Brexit,'" Travers said.
That May could be in a position to lose a place like Kensington was unthinkable when she called a snap election in April, looking to strengthen her majority to support her negotiations with the European Union over Brexit. But her campaign foundered as Corbyn fired up younger voters with promises to restore free university tuition. May was forced into an embarrassing u-turn over a proposal requiring older people hand over their assets to pay for their in-home care, cutting into what they can pass on to their children.
Even some rock-solid Conservatives say they voted for May's party only reluctantly. On a café terrace drenched in decidedly un-English sunshine, Keith and Lee Smith explained their decision. "The Tories need to get with it," said Lee, an accountant in her forties. "They lost the votes of older people, and they just didn't engage the young." May's proposal on what came to be known as the dementia tax was "just appalling," Keith adds. "If you're a wealthy person, you have to be thinking, 'why the hell should I vote for her?'"
Mixed Areas
Like much of London, a city where social-housing buildings are tucked into even the toniest streets, Kensington is more mixed than it appears. The northern part of the borough includes one of London's poorest neighborhoods, the Golborne ward. Though it borders Notting Hill, the local government counts almost 80 percent of households in the area as deprived in some way.
Walking home past a stretch of businesses that includes a Halal butcher called Le Marrakech and Maharaja Food and Wine, 18-year-old Casper Miles saw the promise of free university tuition as a major factor in voting Labour. "I hate the idea of having all that debt," Miles said. But more important was a sense that Corbyn was "always able to give a straight answer, to talk about policy and not just make personal attacks," he continues.

Miles and other young voters may have another chance to make their voice heard very soon. Without a majority, May's hold on government is likely to be unstable, and on Sunday Corbyn said the Labour Party was preparing to fight another election this year should her government collapse.
And then he'll have to demonstrate last week's vote wasn't an accident.
Outside, Jakob's Cafe, a Mediterranean eatery along Gloucester Road, head waiter Victor Bezeshkian was warming to the Socialist.
"I've been Conservative for most of my life. But I can't support Theresa May," he said. "I voted for Corbyn. He seems like a man of the people. He answers questions respectfully, tells you what he thinks. I saw him on the Tube once - no security, just a regular guy."
Before it's here, it's on the Bloomberg Terminal.
LEARN MORE