Pound Faces Fresh Headwinds as U.K. Political Limbo Is Prolonged
By
Sterling adds to Friday's losses that followed election result

Risk reversals show stiff premium to protect against losses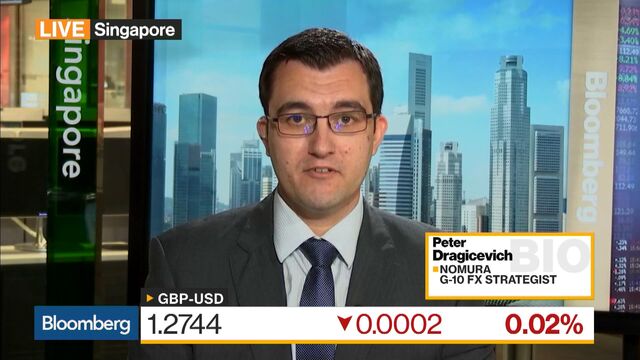 The pound looked set to be buffeted by fresh headwinds on Monday after U.K. Prime Minister Theresa May's efforts of clinging to power through a loose political alliance suffered a setback.
The currency slumped against most major currencies on Friday after May's Conservative Party lost a parliamentary majority in Thursday's election. Over the weekend, May's office was forced to admit that it hadn't, after all, reached a deal to govern with the support of Northern Ireland's Democratic Unionist Party, hours after announcing that it had. Even as some investors argued that the election result will put the brakes on a hard Brexit, ultimately supporting the pound, the prolonged political uncertainty is expected to keep the currency under pressure in coming weeks or months.
While "the pound has performed surprisingly well in the past in the face of a minority government," as in 1974, 1996-97 and again in 1977-78, investors didn't have to deal with the prospect of Brexit at the time, Simon Derrick, chief markets strategist at BNY Mellon, wrote in a client note over the weekend. "It is, therefore, hard to see it performing well over the summer given the possibility that the current state of political uncertainty could last for a number of months yet," he said.
The pound fell 0.2 percent in early Asian trading on Monday to $1.2720, paring its gain for the year to about 3 percent. The currency's one-week risk reversals show investors seeking to buy put options to insulate themselves from losses need to pay a premium of 166 basis points over call options. The currency could find initial support near $1.2620, its 100-day moving average.
The nation's benchmark bonds rallied on Friday, with the yield on 10-year notes sliding three basis points to 1 percent.
Brexit Debate
For the U.K. rates market, short-term "political stability concerns will likely dominate and given the trend lower in recent economic data we expect gilt yields to remain supported around current levels," JPMorgan strategists including Francis Diamond, said in a note. However, "over the medium term we think the risks of a 'hard' Brexit have receded" and once markets have adapted to the idea of a Conservative minority government "we expect to see a drift higher in 10-year yields and a steepening of the 5s30s gilt curve over the coming months."
Barclays Capital Services echoed a similar view on the possibility of a softer Brexit.
"A stronger majority ahead of Brexit negotiations was the main reason May decided to call early elections," wrote Antonio Garcia Pascual, its chief European economist. "Therefore, the poor electoral outcome may be interpreted as a rejection of her stance on Brexit. Her willingness to give up single-market access in favor of tighter control on E.U. labor mobility and 'no deal better than a bad deal' may be revisited. In sum, hard Brexit may be softened by this result."
Daniel Vernazza, UniCredit's Chief U.K. Economist, took a different tack, arguing that the U.K. election result has increased the probability of a "hard" Brexit.
"A hard Brexit is almost a given," he wrote in a client note. "With Theresa May weak, the hard-line Eurosceptics in the Conservative party, who are more organized than the Remainers, will be able to take the Prime Minister hostage in their pursuit of a hard Brexit. The alliance with the DUP, who have always been Eurosceptic and enthusiastically campaigned for Brexit, is only likely to increase the probability of a hard Brexit. "
— With assistance by Stephen Spratt, and V Ramakrishnan
Quotes from this Article
Before it's here, it's on the Bloomberg Terminal.
LEARN MORE