Weakened May Forced to Give Rivals Jobs in Bid to Cling On
By , , and
Gove back in at environment, Leadsom to supervise legislation

May faces Tory lawmakers Monday, meets DUP leader Tuesday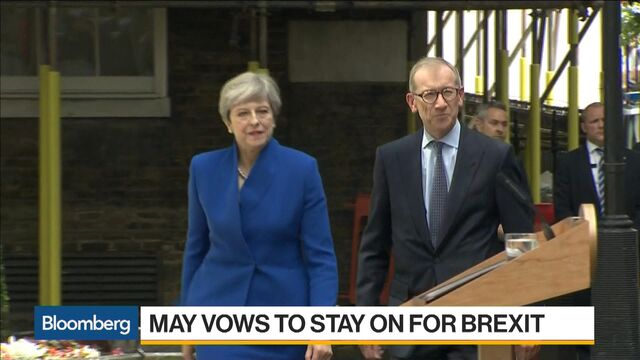 U.K. Prime Minister Theresa May promoted one prominent pro-Brexit minister and reappointed a second to her cabinet as she prepared to face furious Conservative lawmakers in a showdown that could end her premiership.
May named Michael Gove, who unsuccessfully ran against her for the party leadership last year and whom she then fired from the Ministry of Justice, as her new environment secretary. She also promoted another pro-Brexit leadership challenger, Andrea Leadsom, from the environment job to leader of the House of Commons, responsible for steering legislation through Parliament.

May's plans have been thrown into turmoil along with the U.K.'s entire political landscape following Thursday's general election in which she lost her majority. The premier was unable to carry out wholesale cabinet changes that had been mooted before the election, with most ministers staying in the same jobs. She did promote her close friend, Damian Green, previously the work and pensions secretary, to first secretary of state, making him her second in command.
May appeared to acknowledge her time was limited, when she was asked if she would stay in her post until the next election, scheduled to be held in 2022.
"I said during the election campaign that if re-elected I would intend to serve a full term," she told Sky Television on Sunday evening in her official London residence. "But what I'm doing now is actually getting on with the immediate job -- and I think that's what's important."
The first immediate challenge comes on Monday, when May will address the 1922 Committee of rank-and-file Tory lawmakers in a meeting that will test her chances of staying in office. Many are angry with her for calling the snap election and running such a catastrophic campaign after being 20 percentage points ahead in the polls two months ago.
"I'm sure there will be lots of colleagues wanting to air their concerns about the way the campaign was run and the situation in which we find ourselves, which clearly isn't where we wanted or expected to be following the general election," Graham Brady, the lawmaker who heads the committee, told BBC Radio.
Old Rift
One sign of May's weakness is the appointment of Gove, who ran for the Tory leadership in the wake of the Brexit referendum after betraying an earlier agreement to back the favorite, Boris Johnson.
A rift developed between Gove and May that stems from the premier's time in the Home Office and his in the Department for Education during David Cameron's coalition government. As one of the leading cheerleaders for Brexit, Gove will now have to unravel the complex end to EU subsidies for Britain's farmers.

"I'm pleased that people from across the party have agreed to serve in my Cabinet and we're going to be getting on with the job of Government," May said. The public "want to see government providing that certainty and stability at what is a critical time for the country."
Other pro-Brexit ministers who were reappointed rushed to May's defense, reflecting a distaste among many lawmakers for a renewed leadership contest as talks with the European Union on the terms of quitting the bloc are about to start.
"It is absolutely right that she should go ahead, form a government and deliver on the priorities of the people," Foreign Secretary Boris Johnson told Sky News television, after newspaper stories overnight suggested he was about to challenge her leadership. "I am going to be backing her and absolutely everybody I am talking to is going to be backing her as well."
Trade Secretary Liam Fox said May was "positive" in his meeting with her on Sunday and backed her to see through the two years of Brexit talks, which are due to begin in a week's time. "We know we've got a very big job to do," he told Sky.
'Absolute Faith'
"It's time for the whole of the Conservative Party to rally behind the prime minister," Fox said, "I have absolute faith in her, I think she's the best person to take this country forward."
The cabinet appointments followed a night of chaos over May's bid for an agreement with Northern Ireland's Democratic Unionist Party to support her government. Her office was forced to admit it hadn't achieved a final deal just hours after announcing that it had.
May will meet with DUP leader Arlene Foster in London on Tuesday as she seeks to secure the support of the party's 10 lawmakers for her program, making up for the Tories' nine-seat shortfall in the Commons. The Conservatives will be unable to pass controversial legislation without the DUP, the only minor party willing to countenance backing May.
But from another former Tory minister May ousted last year, there was a warning that her time is running out.
'Death Row'
"Theresa May is a dead woman walking," George Osborne, whom May fired as chancellor of the exchequer and who now edits London's Evening Standard newspaper, told BBC Television. "It's just how long she's going to remain on death row."

Opposition Labour Party leader Jeremy Corbyn, boosted by his unexpectedly good election performance, told the BBC he will put forward an alternative program for government and invite lawmakers to vote for it in place of May's.
"I think it's quite possible there'll be an election later this year or early next year, and that might be a good thing because we cannot go on with a period of great instability," he told the BBC. "We have a program, we have support and we're ready to fight another election campaign."
— With assistance by Alex Morales
Before it's here, it's on the Bloomberg Terminal.
LEARN MORE