Hung Parliament May Be 'Disaster' for U.K., Businesses Warn
By
Pessimism in U.K. economy exceeds level after Brexit vote

Almost all businesses worried about make-up of new government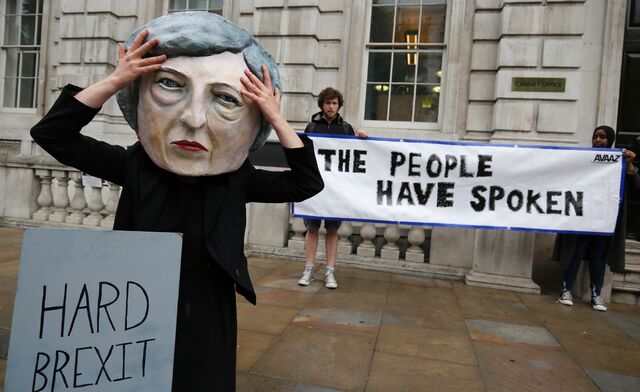 Business optimism in the U.K. economy plunged after Theresa May's Conservative Party lost its majority in Parliament, less than two weeks before talks start on exiting the European Union.
A survey of business leaders conducted over the weekend showed 57 percent are pessimistic about the prospects of Britain's economy over the next year, according to the Institute of Directors. That's higher than when Britain voted in June last year to leave the EU and 43 percent of the executives were pessimistic, the business group said.
"It is hard to overstate what a dramatic impact the current political uncertainty is having on business leaders, and the consequences could -- if not addressed immediately -- be disastrous for the U.K. economy," said Stephen Martin, director general of the IoD in an emailed statement.
May spent the weekend trying to negotiate an alliance with the Democratic Unionist Party after the election left her party short of the 326 seats needed for an overall majority. May called the snap election with a view to expand her previously slim majority and strengthen her hand for talks with the EU.
Of the 686 respondents to the IoD, 92 percent said they were concerned about the make-up of the government and its impact on the U.K. economy. They were most worried about the U.K.'s ability to secure a trade deal with the EU as it prepares to leave the bloc.

Britain has voted three times in three years: The June 8 general election, the 2016 referendum on Brexit and the 2015 general election. According to the survey, 59 percent of business leaders don't want to see another election this year.
Before it's here, it's on the Bloomberg Terminal.
LEARN MORE