Brazil's Temer Ordered Spying on Top Court Judge, Magazine Says
By and
President denies report in Veja; court calls matter serious

Article follows Temer's acquittal on campaign finance charges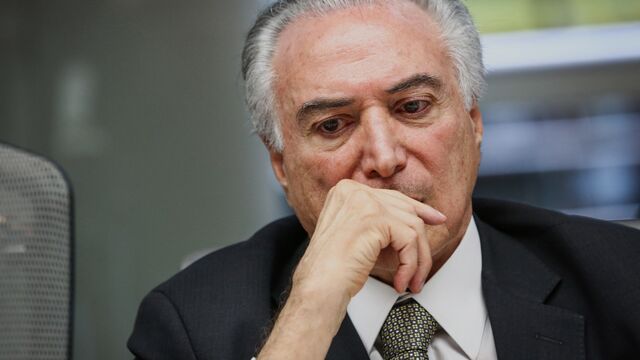 Hours after his acquittal on illegal campaign finance charges, Brazil President Michel Temer was wrapped up in new accusations of wrongdoing -- this time, involving spying on a Supreme Court judge.
News magazine Veja reported that Temer ordered the country's intelligence service to pry into the life of Supreme Court Judge Edson Fachin, who is in charge of the ongoing corruption investigation dubbed Carwash, which has targeted the president along with numerous other political and business figures.

Even after Temer denied the report, the head of the country's Supreme Court, Carmen Lucia Rocha, on Saturday called the allegations serious and said such practices are typical of dictatorships. The Constitution as well as citizens' rights and freedoms would be assured, she said in a statement issued by the Supreme Court.
Rocha's harsh language reflects how tense the political climate in Latin America's largest nation has become after Temer was steeped in corruption allegations last month, prompting calls for his resignation or impeachment. He has denied wrongdoing and said he will not step down.
Temer was acquitted Friday by the top electoral court of campaign finance charges that could have cost him his job.
Before it's here, it's on the Bloomberg Terminal.
LEARN MORE