Where Trump's Lawyer Eyes Vindication Others See Obstruction
By and
Legal experts say Senate testimony put Trump in further peril

Comey affirmed president wasn't being probed under his watch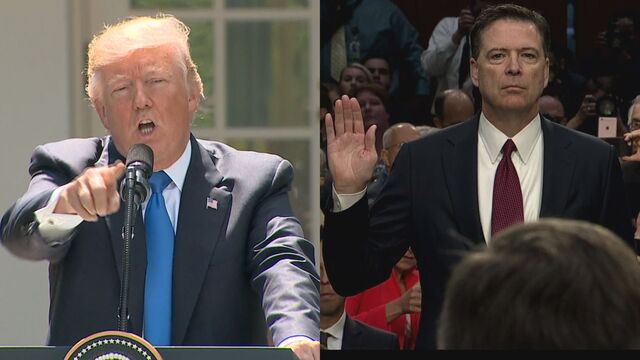 Donald Trump's lawyer says former FBI Director James Comey's testimony about nine private conversations with the president put his client in the clear. Some legal experts say that's wishful thinking.
If the president tried to hinder or block a federal investigation into Russian meddling in last year's election, he may have committed a crime. Comey didn't go that far when he testified Thursday before the Senate Intelligence Committee, but his narrative of events amped up debate about whether the president crossed a line into corruption.

Comey "clearly treated" Trump's behavior as potential obstruction of justice, "even though he wouldn't call it that in testimony," said Samuel Buell, a former prosecutor who now teaches at Duke University School of Law.
The ex-director told the committee he believes, based on the president's statements, that he was fired over the Russia probe after he refused Trump's request to drop an investigation of former National Security Advisor Mike Flynn and "lift the cloud" of the broader Russia matter. He also said he understood Trump's comment during a one-on-one meeting that he hoped Comey would drop the probe to be more of a directive than a wish.
Read More: Why 'Obstruction of Justice' Is Echoing in D.C.: QuickTake Q&A
But Comey also confirmed he told the president three times that Trump, personally, wasn't the target of the probe -- prompting Trump's supporters to claim Comey effectively cleared the president.
"It is now established that the president was not being investigated for colluding with or attempting to obstruct that investigation," Marc Kasowitz, Trump's personal lawyer, said in a statement.
Comey's testimony that Trump pressed him for a loyalty oath in exchange for job security speaks to Trump's possible intent, which Chris Anders of the American Civil Liberties Union, an outspoken critic of the president, says is a key part of making a case for obstruction of justice.
Just because Trump wasn't a target when he talked to Comey doesn't mean he's in the clear now, said Andrew Herman, a partner with Miller & Chevalier who focuses on Congressional investigations and campaign finance law. Former FBI Director Robert Mueller is heading an independent probe into the Russian affair.
Nixon, Clinton
Allegations of obstruction of justice led to the forced resignation of disgraced former President Richard Nixon, and the attempted removal of Bill Clinton from office. Now it appears that Mueller will want to know whether Trump obstructed justice by trying to slow, stop or influence the Russia probe. 
Indeed, Comey testified that senior FBI officials thought the president's statements about Flynn were of "investigative interest," particularly his account of Trump asking Attorney General Jeff Sessions and White House aide Jared Kushner to leave him alone with Comey in the Oval Office. That's when Trump allegedly said Flynn is a "good guy" and told Comey, "I hope you can let this go."
"You can infer from what he said today that he thinks there's at least an investigatable case of obstruction," said Robert Weisberg, director of Stanford Law School's Criminal Justice Center.
But it's still not a smoking gun. William Portanova, who served as a state and federal prosecutor for more than 12 years, said an argument could be made that Trump's behavior is merely due to lack of experience in a world where conflicts of interest matter.
'Innocent Case'
"What makes the obstruction question so difficult to answer is that this could be an innocent case of a question being asked by a person so unsophisticated that they didn't realize it could amount to putting pressure on an investigator," Portanova said.
During Comey's questioning, one senator even asked whether Trump's telling the FBI director about his annoyance with the probe was any different from the president tweeting about it -- something he did regularly. Comey said it was clear pressure on the person in charge of the investigation.
A criminal probe might also look at whether the president's behavior amounted to bribery, according to former FBI special agent Asha Rangappa.
An Ultimatum
Senator Mark Warner, a Virginia Democrat, raised the specter of a quid pro quo when he described Trump's request for Comey's loyalty during a private dinner as an ultimatum. Comey agreed with the interpretation.
"I'm surprised that he worded the answer on the loyalty dinner in terms of bribery," said Rangappa, who's now an associate dean of admissions at Yale Law School. "He's saying Trump expected something in return for letting Comey keep his job."
Others remain unconvinced that Comey supplied any ammunition to put the president in peril.
Hans von Spakovsky, a lawyer at the conservative Heritage Foundation, said Comey's testimony didn't provide any evidence that Trump fired him over the Russia probe.
"His testimony today sounded like he was trying to shape things for his memoirs to repair his reputation," von Spakovsky said. "Don't forget how much he was criticized last year for his mishandling of the Clinton email probe."
— With assistance by Bob Van Voris
Before it's here, it's on the Bloomberg Terminal.
LEARN MORE