Here's How to Kill Electric Cars
The stories that shaped the week, and the big ideas behind them.
By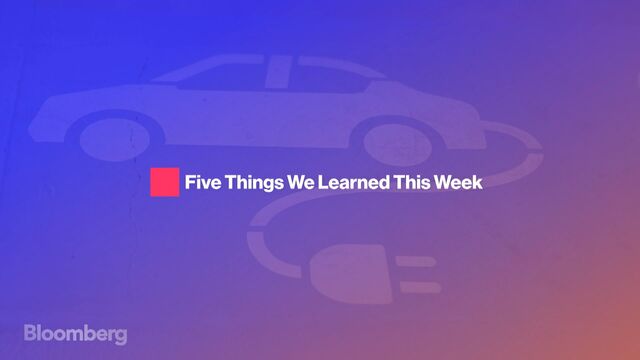 1) The Tesla Killer Isn't What You Think It Is
The electric car seems to be on an unstoppable trajectory. In the past five years, the number of electric cars on the road worldwide has soared to two million from basically nothing, the International Energy Agency said this week. But one nation is showing there's a way to halt their popularity: Stop paying people to buy one. Electric-car sales in Denmark fell more than 60 percent in the first quarter after the government announced that tax breaks would be phased out. Tesla's Elon Musk had traveled to Copenhagen and lobbied against the cuts, and now the Danish government has extended the tax breaks but still intends to reduce or eliminate various incentives. The phase-out plan "completely killed the market," said Laerke Flader, head of the Danish Electric Car Alliance. "Price really matters." 
2) Trump Keeps Blowing His Own Deadlines
Bloomberg's Toluse Olorunnipa has noticed something peculiar. In President Donald Trump's world, everything is about to happen in two or three weeks. "The president has used two-week timelines to sidestep questions from reporters or brag to CEOs at the White House," Olorunnipa wrote. "But his pronouncements have also flummoxed investors, Congress and occasionally even members of his staff." A few examples:
Feb. 9: Trump says his tax overhaul plan will be announced in "the next two or three weeks." A one-page outline was published 11 weeks later.

March 15: Trump tells Fox News's Tucker Carlson that "some very interesting items" will come out "over the next two weeks" to support his claim that former President Barack Obama wiretapped Trump Tower, but no evidence has come out.

April 5: Trump tells the New York Times he'll announce "in two weeks" something about workers' wages on federally funded infrastructure projects. Nothing has come out.
April 29: Trump says he will file a $1 trillion infrastructure program "over the next two or three weeks—maybe sooner." Nothing yet.
May 21: Trump promises a news conference "in about two weeks" about progress fighting ISIS. Nothing yet.
"You can't con people, at least not for long. You can create excitement, you can do wonderful promotion and get all kinds of press, and you can throw in a little hyperbole," Trump wrote in his 1987 book, "The Art of the Deal." "But if you don't deliver the goods, people will eventually catch on."
3) Summer Jobs Are Dying

The summer teenage workforce has cratered. Are kids these days just lazy? Prioritizing "experiences" that will sparkle on college applications? Competing for jobs with more older Americans or immigrants? In the summers of the late '80s, nearly 70 percent of 16- to 19-year-olds were in the workforce, meaning they either had a job or were looking for one. Last July, that figure was down to 43 percent—10 points lower than it was just 10 years ago. If teenagers want them, the jobs are there. More employers are hiring this summer: 41 percent, up from 29 percent last year, according to a CareerBuilder survey. They could just be stuck in summer school, Ben Steverman reports. More than 40% of 16- to 19-year-olds these days go to school in July, up from about 30% in 2001 and about 15% in 1993, according to the U.S. Bureau of Labor Statistics.
4) You Still Can't Trust Your Financial Adviser

If you have any of the following in your portfolio, you might want to reconsider your choice in financial adviser: variable annuities, high-fee mutual funds, and non-traded real estate investment trusts, or REITs. Those products often have high fees and don't perform as well as other investments. That's one of the reasons the Obama administration created a rule to restrict advisers' behavior. In some cases, financial advisers can make higher commissions on products that aren't as good for their clients. Conflicts of interests cost Americans $17 billion a year, or about 1 percent of some $1.7 trillion in retirement funds controlled by financial advisers, the Obama administration estimated. After being delayed by the Trump administration, parts of the Fiduciary Rule will go into effect Friday. The rule requires advisers to show clients the best available products while clearly disclosing fees, which must be reasonable. 
5) This Is the Future of Business-Class Seats
Picture this: You're sitting in a cozy meeting room with three business partners, served elaborate meals created by celebrity chefs. But you're on a plane. This is the next evolution of business class, a term coined by Qantas in the late 1970s. Privacy screens or doors are going to be huge. If that's not enough, airlines are offering the standard lie-flat seats, as well as spa products, 24-inch entertainment systems, personalized lighting and climate,  and power amenities designed to tuck cords out of sight. Business class is actually replacing first class on many planes, Bloomberg's Eric Rosen reports.

Quotes from this Article
Before it's here, it's on the Bloomberg Terminal.
LEARN MORE