This Case Shows How Comey Felt About Obstruction as a Prosecutor
By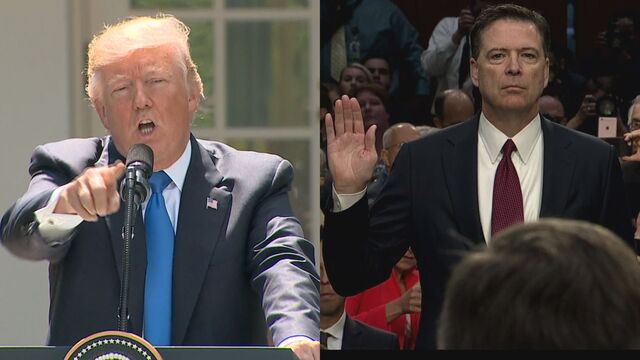 Frank Quattrone, whisperer of the Nasdaq stock-market bubble, once confronted the same legal knot that has Washington riveted today: obstruction of justice. That was in 2003, just before a certain New York real estate developer began honing his TV catch phrase, "You're fired!"
Turns out Quattrone and President Donald Trump have something in common: James Comey. In the 2000s it was Comey, in his days as a U.S. attorney, who went after Quattrone, the most powerful banker in Silicon Valley. And now it's Comey, as former FBI director, who has publicly challenged Trump and, in the process, raised similar questions: Did someone obstruct justice here?
To the Trump camp, the answer is a resounding no. Comey says that's a question for the special counsel, Robert Mueller. But an examination of the long legal travails of Quattrone, who was later cleared when his conviction was overturned on appeal, provides a case study of one thorny obstruction-of-justice case Comey had under his belt as he took down notes of his meetings with the president and laid out a timeline for U.S. senators.
Comey as Prosecutor
Back then, Comey was the top federal prosecutor in New York. It was Comey who brought charges against Worldcom's Bernie Ebbers, Adelphia's John Rigas and, perhaps most famously, celebrity homemaker Martha Stewart, sending them all to prison for various corporate misdeeds for terms ranging from five months to 25 years.
Comey also made the decision to indict Quattrone for obstruction of justice, in a case where the central evidence was open to interpretation, much like Comey's recollection of an Oval Office conversation he had with Trump.
At Morgan Stanley, Deutsche Bank and Credit Suisse First Boston, Quattrone made his name as the nation's premier tech banker by taking dozens of companies public, including Cisco Systems and Amazon.com. Between 1998, the year he joined CSFB, and the end of 2000, Quattrone helped CSFB lead 79 technology IPOs worth $8.7 billion. Amid the tech frenzy of the late 90s, the average first-day trading gain for the IPOs was 93.4 percent. Quattrone earned $120 million in 2000.
IPO Probe
But there was also a dark side to all the success. As the tech market melted down in 2000, U.S. investigators began probing whether bankers at CSFB and other firms used the allocation of sought-after IPO shares to win banking business. The investigation attracted regulators and then prosecutors in the Southern District of New York, which Comey led.
On Dec. 5, 2000, Quattrone passed on an email to his group that had been sent the prior day by fellow banker Richard Char. Char's email carried the heading "time to clean up those files" and urged employees to follow CSFB's document-retention policy, which called for routine destruction of some notes, memos and records. Quattrone added a comment, saying that his experience as a witness in a securities lawsuit led him to "strongly advise'' recipients to follow the policy.
Two days earlier, though, Quattrone had learned that a grand jury had joined the investigation, suggesting it was more ominous. Quattrone also communicated with CSFB's top lawyer, who noted the seriousness of the probe. On Dec. 4, the lawyer told Quattrone that he might need his own lawyer because he may be a witness. Hours later, Quattrone sent out his email to staffers, some of whom began destroying documents. Prosecutors said Quattrone's innocent-sounding missive aimed to obstruct their investigation.
"The integrity of federal investigations require that we aggressively pursue and prosecute efforts to obstruct justice," Comey said at a news conference in April 2003 where he laid out the charges against Quattrone. He added that it's the duty of prosecutors to protect the integrity of the system "with an iron fist."
Question of Intent
The case was anything but a slam dunk, and prosecutors privately admitted as much. On the one hand, Quattrone was well aware of the U.S. probe. He could have stopped Char from sending his email and certainly not dispatched his own. On the other, as the defense argued, Quattrone's email -- one of hundreds he wrote each day -- was a mere afterthought dashed off to endorse a subordinate's clerical suggestion. Quattrone testified that the IPO allocation process was handled by another bank unit so he had no reason to fear the U.S. probes.
The key issue for jurors was Quattrone's intent, just as many Trump opponents have questioned the meaning behind Trump's Oval Office suggestion to Comey that the Federal Bureau of Investigation turn its attention away from his former national security adviser, Michael Flynn, and his later firing of Comey citing the Russia probe.
"Were you thinking about any desire to corruptly cause people to destroy documents?" Quattrone's lawyer asked him at trial. "Absolutely not,'' the banker replied.
Judge's Errors
Deliberations in the first Quattrone trial ended with a hung jury. At a retrial, Quattrone was convicted and ordered to serve 18 months in prison. The appeals court later overturned the conviction because of errors by the trial judge in his instructions to the jury.
By then, Comey had moved on, having been named to a senior post in the Justice Department. (The Quattrone case was still pending at the time of Comey's departure, as was another obstruction-of-justice prosecution he brought, against Martha Stewart.)
On Thursday, similar questions were raised by Democratic senators, who wanted to know if Comey believed Trump had sought to obstruct justice when he told Comey, then the FBI director, that he "hoped" the FBI would drop its investigation of Flynn's ties to Russia. Comey testified that he considered the president's suggestion to be a demand. He added that he had no intention of carrying it out.
Before it's here, it's on the Bloomberg Terminal.
LEARN MORE