Eric Trump Charity Payments Being Examined by New York AG
By
Forbes said Trump Organization got $1 million from charity

Donors were told Trump properties used for free, magazine says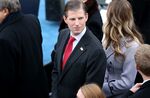 New York Attorney General Eric Schneiderman is looking into why Eric Trump's charity paid more than $1 million to use Trump Organization properties for charity events in recent years, after boasting to donors that the family's assets were being used at no cost.
Forbes magazine reported this month that the Eric Trump Foundation shifted money it raised for children with cancer to his father's Manhattan-based company, collecting fees for the use of a golf course before Donald Trump was elected president.
"We are looking into issues at the foundation raised by the report," Eric Soufer, a spokesman for the attorney general's office, said in an email. New York's top cop isn't calling it an investigation, he said.
"The foundation intends to cooperate fully with the attorney general's review, and looks forward to a productive and open dialogue with the attorney general's Office to address any questions it may have," a spokesperson for Eric Trump said Friday.
Forbes also reported that even though donors to the Eric Trump Foundation had been told their cash was going to help kids with cancer, it re-donated more than $500,000 to other charities, "many of which were connected to Trump family members or interests, including at least four groups that subsequently paid to hold golf tournaments at Trump courses."
The Eric Trump Foundation has raised more than $16.3 million for the St. Jude Children's Research Hospital in Memphis, according to its website. Eric Trump said in a statement on the website that he ceased all direct fundraising efforts at the end of 2016 "to avoid the appearance or assertion of any impropriety and/or a conflict of interest."
Eric Trump responded to the Forbes article on Twitter, saying on Thursday "Unfortunately, the only people who lose are sick kids receiving millions a year. In 2016 that was $3,600,310.00 to be exact."
It isn't the first time Schneiderman has looked into a Trump charity. Donald Trump's foundation in October stopped accepting donations in New York to comply with a cease-and-desist letter issued by Schneiderman over its failure to properly register as a charity under state law. Schneiderman, a Democrat and an outspoken critic of the billionaire, is still probing that charity.
Before it's here, it's on the Bloomberg Terminal.
LEARN MORE