Mongolia Presidential Candidate Evokes Trump, Challenges IMF
Michael Kohn
Battulga seeks to reinstate bank law that almost derailed loan

Nation rich in natural resources holds election on June 26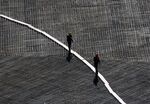 One of Mongolia's top presidential candidates is seeking to reinstate a banking measure that almost derailed the country's $434 million bailout last month as part of a populist-tinged campaign.
Battulga Khaltmaa, a candidate with President Elbegdorj Tsakhia's Democratic party, told Bloomberg in an interview that he supports restoring a provision requiring revenue from the Oyu Tolgoi copper mine and other large foreign-backed projects to be directed through local banks. Mongolia's parliament repealed the provision last month, after the International Monetary Fund balked at approving the funding.

"It's not fair that we have no verification of how much exports are leaving Mongolia," Battulga, 54, said Monday in Ulaanbaatar, noting that the country's mineral wealth belongs to its people. "We don't know how much has been sold, so we should have valid accounting of the revenue."
The proposal was one of several populist policies being pushed by Battulga as he attempts to preserve the Democratic Party's hold on to the presidency in Mongolia, a landlocked nation of 3.1 million people between Russia and China. The June 26 election comes amid a severe economic slowdown caused by weak prices for vital mineral exports, mainly copper and coal.
Battulga is a judo-star-turned-businessman who also served as a former minister of agriculture and industry. He is famous for commissioning a $4.1 million, 40-meter (131-foot) statue of Genghis Khan on horseback.
IMF Bailout
A win by Battulga would preserve the party's platform to contest policies by the Mongolian People's Party, which secured control of parliament in a landslide election victory last year. Elbegdorj is ineligible to seek a third term.
The IMF approved a $434 million loan package May 25 -- Mongolia's sixth such bailout since the end of one-party rule in 1990 -- after the banking measure was repealed. The package is part of $5.5 billion deal that includes includes money from the Asian Development Bank and the World Bank, with Japan and South Korea as direct lenders.

While Battulga said he wouldn't seek to cancel the IMF deal, he believes that Mongolia can get by without it.
"If Mongolia was wise with its $1.5 billion and other bonds or with its resources management, Mongolia would not have needed to bring in the IMF," he said separately in emailed comments. "Now that we are in this situation, Mongolia desperately needs the IMF to avoid bankruptcy and restore investor confidence."
His economic development plans revolve on building rail networks and other infrastructure projects to help process minerals domestically rather then sending them directly to China, which bought more than three-quarters of the country's $3.5 billion in exports last year.
Boosting Exports
Battulga said he believed no country should account for more than one-third of Mongolia's exports. Improving the quality of the country's exports and producing more finished products would open markets in Southeast Asia and elsewhere, he said.
He acknowledged the similarities between his populist campaign against trade deficits with a neighbor and that of Donald Trump's. "Of course, I won't build a wall along our southern border,'' he joked.
Battulga is facing off against Enkhbold Miyegombo of the MPP, a former Ulaanbaatar mayor and the speaker of parliament. Also running is Ganbaatar Sainkhuu, a former lawmaker known for criticizing the Rio Tinto Group, which controls the Oyu Tolgoi mine. Enkhbold declined to comment, saying that he's not allowed to give interviews since the campaign started. Ganbaatar didn't respond to a request for comment.
Before it's here, it's on the Bloomberg Terminal.
LEARN MORE