politics
Mali to Hold Referendum on Constitutional Changes on July 9
By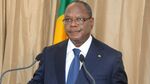 Mali's government will hold a referendum to ask approval for proposed changes to the constitution that include the establishment of a senate, the adoption of reforms agreed to in a peace accord and larger powers for the president to appoint senior officials.
The campaign for the July 9 referendum will start on June 23, according to a statement on the government website Thursday. President Ibrahim Boubacar Keita wants to "correct deficiencies and shortcomings" in the current supreme law and implement clauses from the 2015 Algiers peace agreement, the government said in the statement. Malians can vote a simple "yes" or "no" on the proposals.
Under the changes, several members of the senate will be appointed by the president. This will enable "traditional authorities" to have a say in public affairs, Kassoum Tapo, the minister of human rights and state affairs, told reporters this week. "This revision is for Mali and for peace," he said.
Before it's here, it's on the Bloomberg Terminal.
LEARN MORE