In Brief
ECB Upgrades Outlook, Alibaba Jumps, Zames Leaves
What you may have missed today in global business and finance
By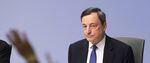 The European Central Bank moved a baby step closer to normalization by omitting the guidance that rates may be cut again, as it left policy unchanged today. On top of that, ECB President Mario Draghi said risks to growth were now "broadly balanced." The bank is expected to cut its consumer price inflation forecasts, while gross domestic product predictions may be revised up.
 
Alibaba Group jumped 12.4 percent in premarket trading after forecasting revenue growth of 45 percent to 49 percent this fiscal year, beating a 35 percent increase predicted by analysts. China's largest e-commerce operator has been venturing deeper into areas such as cloud computing and online media as the country's economy slows. Yahoo! Inc., which owns a stake in Alibaba, rose 9.3 percent.
 
Verizon Communications Inc. plans to cut about 2,100 jobs after completing its $4.48 billion acquisition of Yahoo's internet business and combining it with AOL, according to a person familiar with the matter.
 
JPMorgan Chase & Co. Chief Operating Officer Matt Zames, who was viewed as a potential successor to Chief Executive Officer Jamie Dimon, has decided to leave after 13 years at the bank. "Matt has worked tirelessly across many disciplines to help make us a better company," said Dimon, 61, in a memo to staff on Thursday. "While I am sad to see him leave, I respect his decision and all he has done."
 
Claims for unemployment benefits stayed around multidecade lows. Americans filed 245,000 initial jobless claims in the week ended June 3, compared with a revised 255,000 the previous week and consensus for 240,000.
 
Sirius XM Holdings Inc. is in talks to invest in Pandora Media Inc., Reuters reported, citing people familiar with the matter. The U.S. satellite radio company is negotiating a private investment in public equity after talks about it acquiring Pandora in its entirety ended unsuccessfully over price disagreements.
Before it's here, it's on the Bloomberg Terminal.
LEARN MORE