Five Things You Need to Know to Start Your Day
Get caught up on what's moving markets.
By and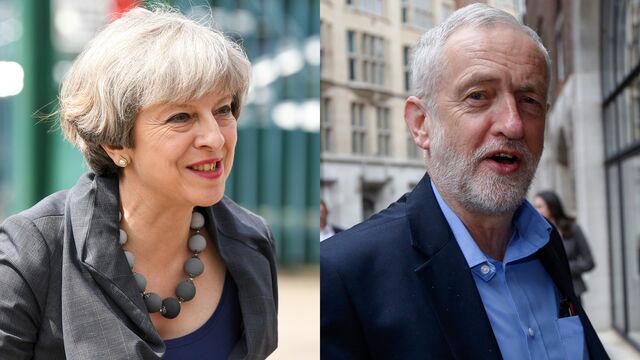 Want to receive this post in your inbox every morning? Sign up here
Britain votes, Comey testifies, and Draghi walks a tightrope. Here are some of the things people in markets are talking about today.
May's day 
Voting is underway in the U.K. election, where Prime Minister Theresa May is hoping to increase her majority in the face of a late-in-the-day narrowing of the polls. The first indications of the result will come from exit polls released at 10 p.m. local time, but the final outcome won't be clear until Friday morning. Traders boosting hedges have sent the number of FTSE 100 Index options near to a record high, and others are mulling the prospect of a hung parliament.
The Comey show
President Donald Trump has nothing on his public schedule until 12:30 p.m. So he'll be joining the rest of Washington as it tunes in to hear fired FBI Director James Comey's testimony. Comey's prepared statement was released yesterday by the Senate Intelligence Committee. In it, the former intelligence chief said Trump pressured him for loyalty, sought forbearance for Michael Flynn, and asked him to lift the "cloud" of the Russia investigation hanging over the administration. Still, blame Comey if your employees aren't working at 10 a.m.
ECB meet
The European Central Bank's challenge of the day is to weigh improvements in economic growth against the lack of convincing inflation pressure. The Governing Council will announce its decision at 1:45 p.m. Central European Time, with ECB President Mario Draghi holding a press conference 45 minutes later. Economists aren't expecting policy changes, but 90 percent of those surveyed think the central bank may drop its reference to "downside" risks to growth. An upward revision to first-quarter GDP this morning threw that possibility into distinction. 
Trouble in Japan
The yen advanced against all of its major peers after the Bank of Japan said it was calibrating its communications to acknowledge it's considering how to handle a future exit from its monetary stimulus. Japanese bonds fell across the yield curve after the Bloomberg report. The second estimate of Japan's first-quarter GDP suggests the BOJ may be in no hurry to scale back. Growth expanded by 1 percent in the first three months of the year, in contrast to the preliminary reading of 2.2 percent, which had been expected to be revised up.
Markets... 
Investors are avoiding adding big positions ahead of key events in Europe and the U.S., helping markets around the world trade mostly steady. Oil edged higher after the biggest drop since March yesterday, as U.S. crude stockpiles unexpectedly rose for the first time in nine weeks. 
What we've been reading 
This is what's caught our eye over the last 24 hours.
Quotes from this Article
Before it's here, it's on the Bloomberg Terminal.
LEARN MORE