ECB Drops Guidance on Rate Cuts in Step Toward Stimulus Exit
By
Monetary policy statement no longer says rates could go lower

President Draghi to explain decision in briefing in Tallinn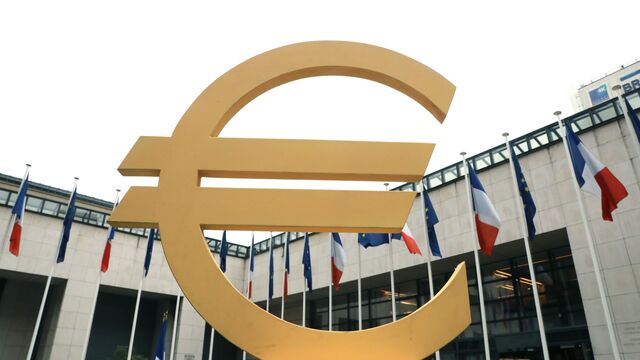 The European Central Bank ruled out further interest-rate cuts in a sign that it's moving closer to an exit from its stimulus program.
The Governing Council, meeting in Tallinn on Thursday, dropped its guidance that rates might fall further, saying only that it now expects borrowing costs to stay at present levels for an extended period. Policy makers reiterated their pledge to increase the size or duration of their bond-buying program if the economy deteriorates.

While the improving economy has sparked a debate about policy, it wasn't a certainty how far the ECB would change its guidance at this meeting. President Mario Draghi and his closest allies had sought to talk down expectations for any major shift, arguing the ECB must be extremely cautious in communicating any exit from stimulus amid a lack of convincing inflationary pressure.
Click here to set a reminder to watch Draghi's press conference live
"There was really no justification for the ECB to keep on holding on to that reference of the possibility of lower rates," Vasileios Gkionakis, a strategist at UniCredit SpA, told Bloomberg Television. "Nobody really believed that it would actually manifest, and especially now that growth numbers are picking up."
Data on Thursday showed euro-area gross domestic product rose 0.6 percent in the first quarter, stronger than initially estimated.
Even so, the statement marks only a small step. The deposit rate was kept unchanged at minus 0.4 percent and the main refinancing rate at zero, and officials still intend to buy 60 billion euros ($67 billion) of debt a month until at least the end of the year.
The euro fluctuated after the decision and was down 0.28 percent at $1.1226 at 2:11 p.m. Frankfurt time.
The focus now turns to Draghi's press conference at 3:30 p.m. local time in the Estonian capital. The ECB chief is expected to say that the risks to the euro area's recovery are now balanced, and investors will be listening for any signal on when a decision to unwind stimulus might be taken. In a Bloomberg survey, economists predicted that announcement will most likely come by the Governing Council's September meeting.
Updated forecasts to be announced by Draghi will show a stronger growth outlook but a weaker inflation picture across the projection horizon, according to euro-area officials familiar with the matter. With price growth estimated at roughly around 1.5 percent through 2019, compared with a goal of just under 2 percent, policy makers may hold off on more significant changes until later this year.
— With assistance by Zoe Schneeweiss, Carolynn Look, Craig Stirling, Catherine Bosley, Fergal O'Brien, Stu Metzler, Chad Thomas, Jurjen Van De Pol, Maria Tadeo, Brian Swint, Lucy Meakin, Jill Ward, Gelu Sulugiuc, Adveith Nair, Alessandro Speciale, Jana Randow, Kristian Siedenburg, Andre Tartar, and Jonathan Ferro
Quotes from this Article
Before it's here, it's on the Bloomberg Terminal.
LEARN MORE