Abbas Will Ease Up on Settlements to Spur Talks, Aide Says
By and
Palestinians want to give Trump an opportunity to 'deliver'

Campaign to rally condemnation of Israel being toned down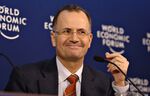 Palestinian leader Mahmoud Abbas will temporarily shelve his long-standing demand for Israel to freeze West Bank settlement construction in order to revive peace talks under the Trump administration, a top adviser said.
The 82-year-old Palestinian Authority president also would tone down his campaign to prosecute Israel for alleged war crimes and to rally condemnation of the Jewish state at the United Nations, said Mohammad Mustafa, Abbas's senior economic adviser and former deputy prime minister.
"We have not made the settlements an upfront issue this time," Mustafa said in an interview Monday at his office in Ramallah. "We think it's better for all of us right now to focus on giving this new administration a chance to deliver."
President Donald Trump says he can broker the Mideast peace agreement his U.S. predecessors failed to secure, using negotiating skills he developed as a New York real-estate mogul. Since taking office in January he has hosted Abbas and Israeli Prime Minister Benjamin Netanyahu at the White House and last month visited Jerusalem and Bethlehem on his first foreign trip as president.
Even if Trump can get the two sides back to the negotiating table, the differences between them on core issues such as borders, Jerusalem and refugees are immense. Moreover, the new U.S. administration hopes to position Israeli-Palestinian peace as part of a broader process of reconciliation between Israel and the Sunni Arab world, an undertaking with its own set of challenges and complications.
Israeli Defense Minister Avigdor Liberman said late Thursday that Abbas and Netanyahu are "much closer to an agreement than ever before." He spoke in an interview with Israel's Channel 2 television.
Embassy Waiver
Mustafa, 62, chairman of the Palestine Investment Fund, the Palestinian Authority's sovereign wealth fund, says rampant unemployment and international donors' failure to provide promised funds are among the economic forces Abbas must contend with while trying to return to the negotiating table with Israel.
"We want to do both in parallel," Mustafa said.
Another high-ranking Abbas aide, Mohammad Shtayyeh, said Trump earned Palestinian confidence when he postponed moving the U.S. embassy to Jerusalem from Tel Aviv, putting aside a campaign promise to do so. Trump last week signed a waiver pushing off any move for another six months.
"There is a new dynamic," said Shtayyeh, a member of the policy making Central Committee in Abbas's Fatah party, who has cabinet status as chief of the Palestinian Economic Council for Development and Reconstruction. "The embassy issue is behind us."
Israeli and Palestinian negotiators haven't held official talks since a nine-month peace effort brokered by U.S. Secretary of State John Kerry collapsed in 2014. Shtayyeh helped lead the Palestinian team at the talks, which took place in Washington, Israel and the West Bank.
Settlement Freeze
Throughout former President Barack Obama's term, Abbas refused to negotiate unless Netanyahu froze construction in some 120 West Bank settlements where more than 400,000 Israelis live. Netanyahu agreed to a 10-month West Bank freeze in 2009 but it largely failed to get talks off the ground, and building later resumed.
Just this week, Netanyahu's housing minister, Yoav Gallant, outlined a proposal for 67,000 new homes in West Bank settlements. Most would be in established blocs that Israel expects to keep in any final peace agreement.
Netanyahu says he's willing to resume negotiations with Abbas "anytime and anywhere," and says Israelis are willing to make "painful sacrifices" for peace. According to Netanyahu, the main sticking points are the Palestinian refusal to recognize Israel as the nation-state of the Jewish people and anti-Israel incitement in Palestinian schools and media. 
Abbas says Israel also incites against the Palestinians. He says it should be sufficient that Palestinians have accepted Israeli statehood, whereas formally recognizing the state's Jewish character might harm Arabs who make up some 20 percent of Israel's population.
While U.S. Middle East envoy Jason Greenblatt and other White House officials try to get the peace process moving again, Palestinians will ease up on efforts to pressure Israel through foreign bodies such as the International Criminal Court at The Hague.
"Like the settlement issue, we're not giving up anything but we're not going out of our way to activate things at this time," Mustafa said.
Israeli lawmaker Erel Margalit said Abbas's willingness to set aside his demand for a settlement freeze is an opportunity Netanyahu should seize, particularly if it opens the door to strengthening ties with Saudi Arabia and other Persian Gulf states.
"For those who were looking for a sign of seriousness from the Palestinian Authority, this is it," said Margalit, a candidate for leadership of the Labor Party in next month's primary. "For those who haven't understood yet, the path to Riyadh and a regional initiative goes through Ramallah."
Palestinians were underwhelmed by a series of confidence-building measures Israel proposed on the eve of Trump's visit, Mustafa said. The gestures, made final last week during a meeting between Israeli Finance Minister Moshe Kahlon and Palestinian Authority Prime Minister Rami Hamdallah, include keeping the Allenby Bridge crossing open all day between the West Bank and Jordan and developing an industrial zone in the West Bank.
Personal Commitment
Mustafa outlined three major steps Palestinians need to improve the economy and facilitate peace talks. Paramount is receiving hundreds of millions of dollars in annual aid that donor nations pledged to the Palestinian Authority but didn't deliver.
Next is foreign investment in energy, tourism, real estate and industry. That would require Israeli permission for Palestinians to build and farm in parts of the West Bank that contain most of the Jewish settlements. The third is Israel's "political enabling for this program."
Palestinians are impressed with Trump's early and personal dedication to resolving the conflict with Israel, Shtayyeh said. He contrasted that with the attitude of Obama, who he said "outsourced" the project to ex-Secretary of State John Kerry.
"With this administration, the White House is engaged and that's a huge difference," Shtayyeh said. But he cautioned: "That doesn't mean I'm optimistic. Don't misunderstand."
Before it's here, it's on the Bloomberg Terminal.
LEARN MORE