U.K.'s Corbyn Drops Gaffe-Prone Diane Abbott Citing 'Ill Health'
By
Lyn Brown to stand in for Abbott during 'period of ill health'

Abbott had pulled out of two planned media appearances Tuesday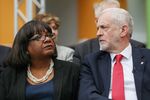 U.K. Labour leader Jeremy Corbyn is replacing his gaffe-prone candidate for home secretary Diane Abbott just one day before the election, citing ill health.
The 63-year-old is a long-time ally of Corbyn but a series of embarrassing fumbles rendered her a liability during a campaign that became focused on security after terror attacks in Manchester and central London.
Lyn Brown will fill in for Abbott, who pulled out of two planned media appearances this week, "for the period of her ill health," according to a statement released by the party. Brown, who is shadow police minister and a Labour candidate for West Ham, was one of 47 Labour lawmakers who defied Corbyn to vote against the Brexit bill in February.
The announcement follows Abbott's performance in a Sky News interview on Monday, where she appeared to struggle to give answers on the specifics of a counter-terrorism report. She then pulled out of planned appearances on BBC Radio 4's Woman's Hour and an Evening Standard event, with foreign-affairs spokeswoman Emily Thornberry standing in for her.
"She's not well," Corbyn told the BBC earlier on Wednesday when asked if he still had confidence in Abbott. "For a couple of days, she's taking a break from the campaign."
Abbott had come under fire earlier in the election campaign when an interview on LBC radio saw her stumble over the cost of Labour's plan to hire an additional 10,000 police officers. She initially said it would cost 300,000 pounds ($387,000), or 30 pounds per officer.
Watch Next: U.K.'s Abbott: Military Cannot Be Only Anti-Terror Weapon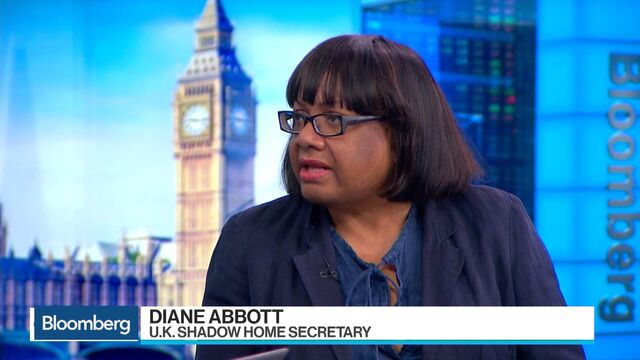 Before it's here, it's on the Bloomberg Terminal.
LEARN MORE