Trump Says U.S. to Crack Down Soon on Foreign Steel Dumping
By and
President says measures coming 'very soon' to stop dumping

U.S. launched steel national-security investigation in April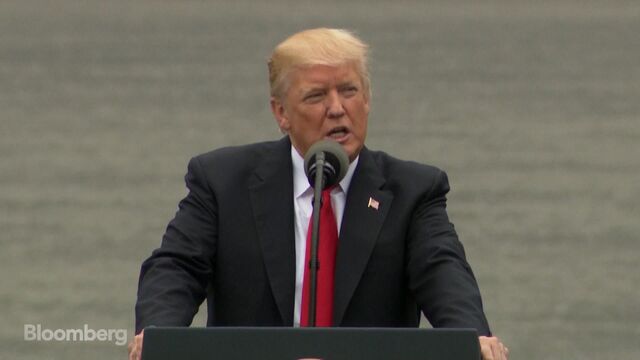 President Donald Trump said his administration will take measures "very soon" to stop foreign firms from selling steel in the U.S. at artificially low prices.
"Wait'll you see what I'm going to do for steel and for your steel companies," Trump said Wednesday in a speech in Cincinnati, Ohio. "We're going to stop the dumping and stop all of these wonderful other countries from coming in and killing our companies and our workers."
The Commerce Department is investigating the effects of steel imports on America's national security under the seldom-used section 232 of the Trade Expansion Act. If the department finds evidence of a national-security threat from steel shipments from abroad, the president is authorized to unilaterally "adjust imports," which could include limiting or restricting them.
When the probe was launched in April, Commerce Secretary Wilbur Ross argued that China had failed to deliver on promises to reduce excess steel capacity, a situation that he said was hurting the U.S. steel industry.
Major American steel makers say that cheap steel imports, especially from China, are undercutting the U.S. industry. They say the loss of local steel capacity could pose a national security risk if the U.S. doesn't have adequate domestic supplies to meet its infrastructure and defense needs.
China has noted that its shipments to the U.S. are low-end steel products that local producers aren't willing to make and says that it's a small player. The volume of Chinese shipments of the metal to the U.S. have fallen more than 67 percent since 2015, and account for only about 4 percent of total American imports, the China Iron and Steel Association said in a written submission to the Commerce Department for its 232 investigation.
The department has until early next year to prepare the report for the president, though Secretary Ross has indicated he wants to fast-track the study.
Before it's here, it's on the Bloomberg Terminal.
LEARN MORE