Trump Names Wray FBI Director Pick on Eve of Comey Hearing
By , , and
Former DOJ official led prosecution of Enron, fraud probes

Wray would succeed former FBI chief James Comey, who was fired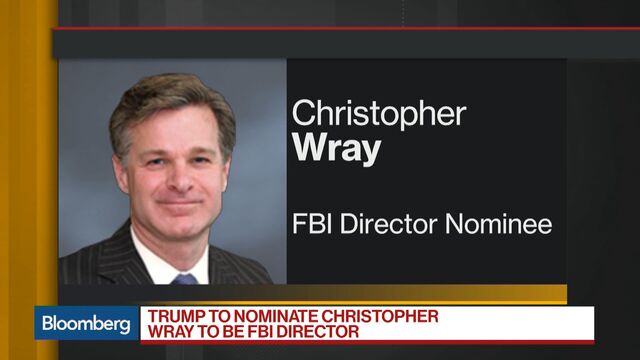 President Donald Trump said Wednesday he will nominate former Justice Department official Christopher A. Wray as FBI director, a day before the man he fired from that post, James Comey, testifies before a Senate committee.
The timing suggests the White House is trying to turn the page on Comey's era at the Federal Bureau of Investigation before a Senate hearing on his dismissal. During an appearance on Thursday set to be broadcast live on national television, Comey will be answering questions about whether the president pressured him to ease off his investigation into Russian interference in last year's election.
Wray built a reputation as a white-collar defense attorney after serving as the U.S. assistant attorney general in charge of the Justice Department's criminal division from 2003 to 2005. He represented New Jersey Governor Chris Christie in the so-called Bridgegate scandal investigation of politically motivated traffic delays in 2013 on the George Washington Bridge.

Congressional leaders said they weren't consulted on the Wray pick.
"I don't know the guy, but I've looked at his resume. He seems like the right person. He seems like to me he's the perfect kind of person," House Speaker Paul Ryan told reporters. "I felt we should have a career person take over the FBI, someone with a deep bench of experience. He certainly seems to fit that bill."
Unwinding the Twists, Turns in Trump-Russia Probe: QuickTake Q&A

Wray needs confirmation from the Senate. "So far it looks like he's well credentialed but we'll go through the hearing process," said John McCain, of Arizona, a member of the Republican majority.
The FBI Agents Association withheld its endorsement and said in an emailed statement it wanted to meet with Wray so it "understands his views on the FBI, special agents, and the criminal and national security threats that agents combat daily."
Trump called Wray a man of "impeccable credentials" in announcing his choice on Twitter.
During his tenure at the Justice Department, Wray was involved in the prosecution of HealthSouth Corp. founder Richard Scrushy on accounting fraud charges. He also oversaw the task force that investigated Enron Corp. following the energy company's bankruptcy and collapse, according to a bio on the website of his law firm.
Wray said preventing terror attacks in the U.S. would be his number one priority during his Senate hearing to become head of the Justice Department's criminal division in 2003. He touted his experience sitting in on daily threat briefings as a top Justice Department official.
Since Sept. 11
"I have been involved in just about every significant terrorism prosecution and investigation that the department has had since September 11, whether in Virginia or in New York or Chicago, Buffalo, Portland," Wray said during his 2003 Senate Judiciary Committee testimony.
David Israelite, who was deputy chief of staff to Attorney General Ashcroft during the Sept. 11, 2001 attacks, said top DOJ staff including Wray worked out of FBI headquarters for several weeks following the attacks. "Chris handled an enormous amount of responsibility in an exceptional way during that period," said Israelite, now president and CEO at the National Music Publishers' Association.
"Chris Wray is super smart, a great lawyer and highly experienced," said Larry Thompson, a former deputy attorney general in the George W. Bush administration who was a mentor to Wray. "He's a very careful lawyer, and he simply does not make mistakes. We're fortunate he decided to reenter public service."
Confirmation Advantage
Wray's background as a Justice Department professional may give him an advantage during confirmation hearings. Senators of both parties had urged Trump to choose a law-enforcement professional rather than a politician when the president was considering choices such as Senator John Cornyn and former Senator Joe Lieberman.
"He's a very good pick," said Michael Chertoff, who was head of the Justice Department's Criminal Division from 2001 to 2003. "He's experienced as a prosecutor and defense attorney, and was at the Justice Department during the period right after 9/11. He has the right set of credentials, is well-respected and equipped for the job."
Former Obama administration ethics adviser Norm Eisen endorsed Trump's decision, saying on Twitter that Wray is respected in the white-collar bar and did a good job on the Enron case.
Senator Mark Warner, a Virginia Democrat and vice chairman of the Intelligence Committee that will hear Comey's testimony on Thursday, said on MSNBC that Trump's timing was "curious" and appeared intended to change the subject from Comey's appearance.
Warner said he doesn't know that much about Wray, but added that "I hear he had a good reputation."
Legal Background
At Justice, Wray, who received a law degree from Yale in 1992, helped lead the department's efforts to address the wave of corporate fraud scandals, overseeing the prosecution of Enron and HealthSouth, among other major investigations.
Jurors acquitted Scrushy of criminal charges in 2005 -- an embarrassment for the Justice Department after 15 HealthSouth executives pleaded guilty to a role in the fraud. Scrushy was later convicted in a separate bribery case.
Wray left the Justice Department in 2005 and returned to the Atlanta-based law firm King & Spalding, where he's now a litigation partner.
King & Spalding's energy practice has represented clients working on deals involving Russia, including the state-owned Rosneft Oil Co. and Gazprom PJSC, according to the firm's website. It says the firm also represented a large Russian oil company it does not identify that operates in Kazakhstan.
King & Spalding is a large law firm with more than 900 attorneys and 18 locations around the globe. Micheline Tang, a spokeswoman for the firm, had no immediate comment on whether Wray was involved in the firm's work with Rosneft.
Credit Suisse
Wray represented Credit Suisse Group AG before its main bank unit pleaded guilty in 2014 and paid $2.6 billion, admitting that it helped thousands of Americans evade taxes.
Wray's choice is not the first time Trump has turned to King & Spalding. In January, the Trump Organization Inc., the president's private business, chose partner Bobby Burchfield to serve as an independent ethics adviser.
On Jan. 11, then-President Elect Trump said he would turn leadership of the company over to his sons while retaining his ownership stake. Critics say that isn't enough to resolve his conflicts of interest. The company owns and operates buildings, hotels, golf clubs, restaurants, and casino resorts.
The firm's legal work for the Trump family is among factors that make "us question his ability to lead the FBI," said Faiz Shakir, national political director of the American Civil Liberties Union.
Bridgegate
"There is no conflict," Burchfield said in an interview. "Chris Wray has not been involved in my work as ethics adviser, and if he should be confirmed as FBI director, he would leave the firm and have no further involvement with any of the firm's clents."
"Chris would also be subject to the ethics rules binding federal employees, and knowing Chris as a man of great integrity, he would faithfully follow those rules," Burchfield said.
More recently, Wray represented Christie during the criminal investigation of a partisan plot to create crippling traffic near the George Washington Bridge as punishment for a local mayor who wouldn't support the governor's 2013 re-election. 
Christie wasn't charged, but two of his former allies were convicted at trial and a third pleaded guilty. Wray assumed a low profile during the investigation, while Christie aggressively asserted that he played no role in the traffic plot or the cover-up that followed. 
If confirmed by the Senate, Wray would replace acting FBI Director Andrew McCabe, who's been in charge since Trump dismissed Comey. Wray would be leading the FBI as the agency and the Justice Department are enmeshed in a complicated and politically fraught investigation into Russian attempts to influence the 2016 election that may involve people close to Trump and, potentially, the president himself.
The FBI's work on the Russia investigation is being overseen by Robert Mueller, a former FBI director who was named special counsel for that probe by deputy Attorney General Rod Rosenstein after Comey's firing. Attorney General Jeff Sessions recused himself from the Russia probe after misrepresenting his contact with Russian officials during the election.
Sessions' recusal led to a widening rift with Trump, and a person familiar with the matter said Tuesday that Sessions had recently offered his resignation. Although Sessions remains in the post, White House press secretary Sean Spicer on Tuesday declined to say whether Trump retains confidence in his attorney general.
Trump's Search
Trump's decision ends the nearly month-long search for a successor to Comey, who was fired May 9. Wray was among at least a dozen candidates who were interviewed for the post. Trump said May 18, before leaving on his first foreign trip as president, that Lieberman was one of his top choices to lead the bureau.
Samuel Buell, former prosecutor on the Enron Task Force who now teaches at Duke University School of Law, said that that previous FBI directors, including William Webster, Robert Mueller and Comey, all had deeper levels of Justice Department experience before moving into the job.
"He's an experienced federal prosecutor, but not from a level of seniority and gravitas that one would expect to see in an FBI director in a time of crisis," Buell said. "It's obvious they talked to a lot of people, and some people weren't comfortable about the job."
— With assistance by Paul Cox, Greg Farrell, Elizabeth Titus, Chris Strohm, Arit John, and Ari Natter
Before it's here, it's on the Bloomberg Terminal.
LEARN MORE