Trump's Qatar Curveball Makes Tillerson Improvise Policy Again
By
President's posts undercut Cabinet's bid to ease Gulf crisis

Government officials stay in shadows to avoid explanations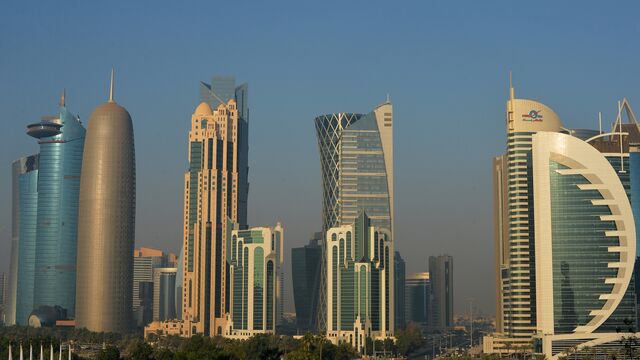 As the Qatar crisis erupted this week, U.S. Secretary of State Rex Tillerson found himself performing a familiar task: assuring the world his boss didn't mean to reverse years of foreign policy in a tweet or two.
Trump's tweets on Tuesday praising Saudi Arabia's decision to sever ties with Qatar contradicted diplomats and military officers who had avoided taking sides between U.S. allies for fear of making the situation worse. He echoed the point in Cincinnati Wednesday when he again praised Saudi Arabia for "doing something very special."
The comments spurred another of the damage-control missions that Trump's top foreign policy officials have had to conduct repeatedly on matters including his decision to quit the Paris accord on climate control, his refusal to explicitly support NATO's pledge of collective defense and his threat to make South Korea pay for the Thaad missile-defense system the U.S. is providing.
The danger of wading into the Qatar debate amid escalating regional tensions was driven home Wednesday with a terrorist attack in Iran's capital that killed 12 people. Islamic State claimed responsibility, and Iran's Revolutionary Guards Corps was swift to link the attack to U.S. support for Saudi Arabia, which it called a "one of the region's backward governments."
Read More About How Qatar's Ambitions Produced a Saudi-Led Smackdown
Yet, there was no indication that before tweeting Trump had consulted with Tillerson, who worked closely with Qatar's leaders when was chief of Exxon Mobil Corp., or Defense SecretaryJim Mattis, who knows the Mideast allies well from his time as the general heading U.S. Central Command.
"It's very clear that there is no coordination between the White House on one hand and State and Defense on the other," said Randa Slim of the Middle East Institute in Washington. "It's forcing countries to take matters in their own hands because they understand they cannot rely on the U.S. to be the elder statesman."
The showdown among Mideast allies began on Monday, when Saudi Arabia and three other U.S. allies in the region -- the United Arab Emirates, Egypt and Bahrain -- abruptly severed ties with Qatar, citing its support for regional rival Iran and for extremist groups. They suspended flights and sea travel to Qatar, expelling its diplomats and citizens. Qatar dismissed the Saudi charges as baseless and said the Saudis are trying to dominate the region.
As the crisis unfolded Monday, White House spokeswoman Sarah Sanders told reporters that Trump wanted to "de-escalate" the situation, and Tillerson and Mattis echoed that view. Much is at stake -- potentially including U.S. air operations out of the Al Udeid airbase in Qatar. A $60 million air operations headquarters at the base is the nerve center of the air war against Islamic State terrorists in the region.
A U.S. official, who spoke on condition of anonymity to discuss operational considerations, said there's no serious thought of pulling out of the base, though there may be concerns about transporting supplies and basic goods across borders if the current dispute drags on.
Asked about the base, Air Force Secretary Heather Wilson told the Senate Armed Services Committee on Tuesday that "it is our hope that this resolves itself," but she also added, "We have back-ups to our back-ups to our back-up plans. That's what we do."
'Qatar -- Look!'
Yet Trump showed no concern for such complexities in his early morning tweets Tuesday.
"During my recent trip to the Middle East I stated there can no longer be funding of Radical Ideology," Trump said in one of the messages. "Leaders pointed to Qatar -- look!"
His visit to Saudi Arabia last month was "already paying off," he added. He reinforced his support for the Saudis with a call later Tuesday to King Salman, according to a White House statement.
Hours after Trump's tweets, Tillerson went to work trying to calm the waters. On a stop in New Zealand, he said that "every country in the region has their own obligations they need to live up to. We are hopeful that the parties can resolve this through dialogue."
By Wednesday, the White House was announcing that Trump had spoken with Qatar's emir, offering to help the sides resolve their differences, "including through a meeting at the White House if necessary."
The tweets, and Tillerson's response, highlighted what's become a hallmark of the administration, and one that diplomats and certainly U.S. allies had expected would fade over time: how to square Trump's actions -- and online postings -- with what his senior Cabinet secretaries tell them about U.S. policy on trips overseas.
'The Adults'
Foreign policy veterans say the concerns go to whether the U.S. can be trusted if its stance and priorities can change in the time it takes to tweet.
"It was absolutely the hope of most of our allies that Trump would moderate over time and they could work things out with the adults in the meantime," said Tom Malinowski, who was assistant secretary of state for democracy, human rights and labor under President Barack Obama. "But the Paris withdrawal probably more than anything else called that into question. That wasn't just a tweet -- that was a fundamental shift in American policy that the adults all opposed and they weren't able to stop it."
Current and former State Department officials said in interviews that government officials and foreign service officers now work in the shadows, desperate to avoid news coverage for fear Trump will see it and tweet a response.
"It is adding to their workload in crazy ways," said Loren deJonge Schulman, a senior fellow at the Center for a New American Security. "They're not doing their jobs because they're having to explain why the president tweeted something that contradicts what had been said before. It's this enormous drain on staff time."
By the end of the day Tuesday, spokesmen for Mattis's and Tillerson's agencies vented their frustration at reporters asking about Trump's tweets and the complications they pose for foreign-policy makers -- even as White House Press Secretary Sean Spicer was telling reporters that the president's tweets are "official statements."
'Let's Move On'
Captain Jeff Davis, a Defense Department spokesman, was asked to reconcile Trump's tweets with a statement from Central Command that the U.S. was grateful to Qatar for its longstanding support. He said simply "I can't help you with that."
Holding her first briefing as spokeswoman for the State Department, Heather Nauert said "Guys, let's move on from this social media thing," after reporters peppered her with questions.
Tillerson said in New Zealand, "The president has his own unique ways of communicating with the American people and the world and it's served him pretty well. I don't intend to advise him on how he ought to communicate. That's up to him."
— With assistance by Margaret Talev, and Anthony Capaccio
Before it's here, it's on the Bloomberg Terminal.
LEARN MORE