Trump Pressure on Comey 'Wrong,' 'Dumb,' But Likely Not Illegal
By , , and
Ex-FBI director to testify Thursday about dealings with Trump

Critics see obstruction of justice, fans 'normal' N.Y. talk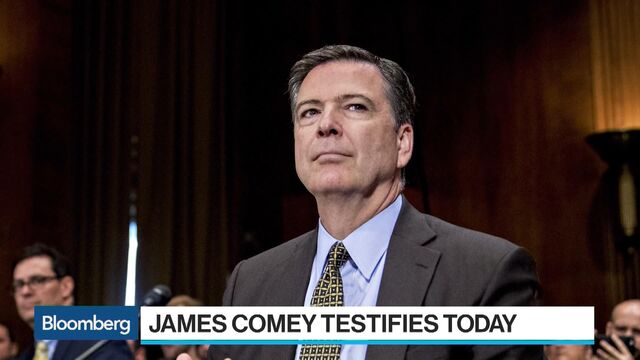 Improper? Definitely. Illegal? Probably not.
That's the consensus of several former prosecutors and legal experts about Donald Trump's conduct after reading former FBI Director James Comey's testimony about his interactions with the president, who fired him a month ago.
Comey's prepared remarks for a Senate committee didn't change many minds. Those who said the president broke the law by asking Comey to drop an investigation into Russian meddling in last year's election said their view is reinforced. Others are sticking with their view that the president's actions don't rise to the criminal level of obstruction of justice.
Harvard Constitutional Law Professor Laurence Tribe, a vocal opponent of Trump, said last month the president's request that Comey stop investigating former National Security Adviser Michael Flynn amounted to obstruction of justice. He said his opinion was reinforced by Comey's prepared remarks.
"The president sought to influence and even end an ongoing investigation into serious wrongdoing by Flynn and others," Tribe said on Wednesday. "That constitutes obstruction of justice."
Others aren't as sure.
"Comey says that the president said Flynn was 'a good guy' and asked Comey to drop the investigation," said John F. Wood, a former U.S. Attorney and former chief of staff for the Department of Homeland Security. "That was incredibly inappropriate, but probably not illegal."

For What People Said on Obstruction of Justice Last Month: Click Here
Comey's prepared remarks were released on the eve of his testimony to the Senate Select Committee on Intelligence. He said Trump sought his loyalty and urged him to drop the Flynn investigation.
Comey's wording about his conversations with Trump is precise. For example, Comey said he assured Trump that he wasn't being investigated personally, with the understanding that there wasn't an open counter-intelligence case on the president. He also said he didn't think the president was referring to a broader investigation into Russia, or possible links to his campaign, when Trump asked for the Flynn investigation to be dropped, but only into Flynn's false statements about his conversation with Russia's ambassador.
Trump said he asked for Flynn's resignation because the former adviser lied to the vice president about those contacts.
"It's not against the law to lie to the vice president of the United States in that situation," said Jeffrey Cramer, a former federal prosecutor who's now a managing director with Berkeley Research Group in Chicago. "The conversations, as relayed by Comey's statements, are akin to an Illinois politician demanding loyalty from a patronage hire at a state agency."
For a Q&A on Obstruction of Justice; Click Here
But that's just the way New Yorkers talk, said Chris Christie, the Republican governor of New Jersey who backs Trump. Christie was also a prosecutor.
"What you're seeing is a president who is now very publicly learning about the way people react to what he considers to be normal New York City conversation," Christie said in a MSNBC interview Wednesday.
Comey's testimony Thursday is the most anticipated Congressional hearing in recent memory. Trump fired Comey in the fourth year of the FBI director's 10-year term and said "this Russia thing" was on his mind when he made the decision. That raised speculation whether the president's actions met the legal standard of obstruction of justice. More questions were raised when Comey's notes of a meeting with the president were leaked.
Preet Bharara, the former U.S. Attorney in Manhattan whom Trump also fired in May, agreed that Trump's actions were improper, but chose to avoid the legal question.
"Obstruction aside, it's NEVER ok for a POTUS privately to ask an FBI Director to drop a criminal investigation," Bharara wrote on Twitter. "Extraordinary, wrong & dumb."
Before it's here, it's on the Bloomberg Terminal.
LEARN MORE