Stanford Endowment CEO Wallace Urges Caution on Private Equity
Michael McDonald
Excess capital driving higher valuations, Robert Wallace says

Wallace runs Stanford University's $25 billion endowment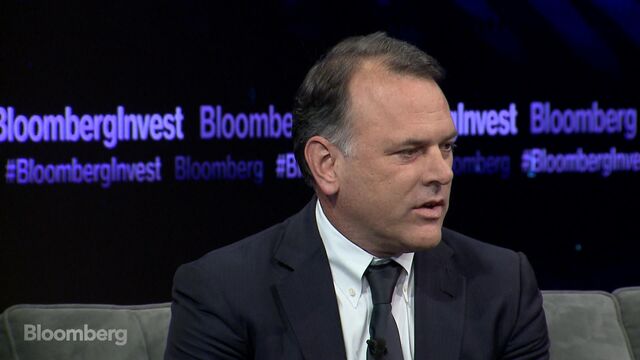 Robert Wallace, the head of Stanford University's $25 billion endowment, urged caution when investing in private equity and venture capital, saying that an excess of capital is driving some company valuations higher.
Wallace, who trained at Yale University under David Swensen, said that while the two asset classes offer the best opportunities for outsize market returns, or so-called alpha, investors need to be selective in choosing managers. There's a lot of dry powder chasing later stage venture capital investments in particular, he said.
"Perhaps we're in a state of overvaluation," Wallace, chief executive officer of Stanford Management Co., said Wednesday at the Bloomberg Invest New York summit.
Every Company
The amount of capital raised by private equity and venture capital that hasn't been invested hit new highs at $842 billion as of March 31, according to Preqin.
Wallace described Stanford's meticulous approach to selecting buyout funds, which he learned at Yale, one of the top-performing university endowments. He said Stanford reviews every company in a buyout fund's portfolio before deciding whether to invest with the money manager.
Wallace joined Stanford's investment office in 2015 from a family office in London, and leads a team of more than 50 people. He is one of a number of investment officers overseeing endowments and foundations who trained under Swensen, working at Yale after he graduated from the university's business school in 2002.
He was hired to turn around an investment office that has trailed its peers in performance, with an annualized gain of 7.1 percent in the past five years through June 2016, versus 10.3 percent for Yale and 9.4 percent for Princeton University, according to data compiled by Bloomberg. Stanford, located near Palo Alto, California, had a 0.4 percent investment decline for the year through June 30.
Top Performer
As of June 30, private equity was the largest asset allocation target at 26 percent for the merged pool of Stanford's primary investment vehicle, according to an annual report. The merged pool includes most of the university's endowment and expendable funds, as well as capital reserves from Stanford Health Care and the Lucile Packard Children's Hospital.
Private equity was Stanford's top performing asset class over the decade through June 30, returning almost 12 percent on average a year and beating a benchmark return of about 10 percent, according to the annual report.
"Of all the asset classes, private equity can drive the highest level of alpha," Wallace said.
— With assistance by Janet Lorin, Gillian Tan, and Jason Kelly
Before it's here, it's on the Bloomberg Terminal.
LEARN MORE