South Korea Suspends Missile Shield Deployment, Yonhap Says
By and
Four remaining Thaad launchers 'will have to wait': Official

President Moon wants to assess environmental impact of battery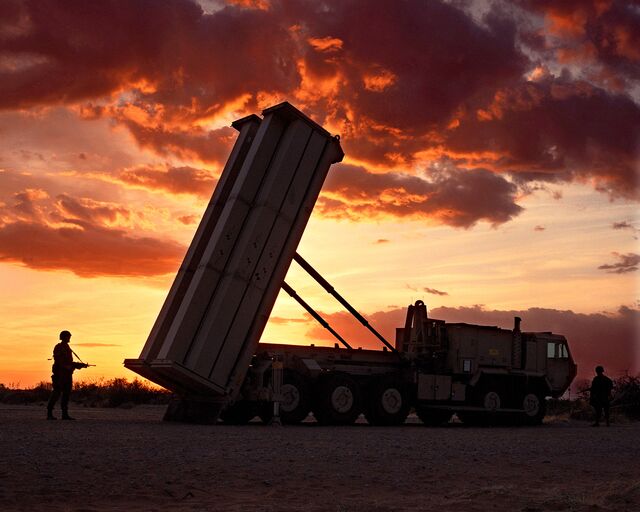 South Korea's new president is suspending the installation of remaining components of a controversial U.S. missile shield pending an environmental impact assessment, Yonhap News reported, leaving the system incomplete while North Korea steps up its missile development.
"We are not saying the two launchers and other equipment that has already been deployed should be withdrawn," a senior official at President Moon Jae-in's office said Wednesday, according to Yonhap. "But those that have yet to be deployed will have to wait."
The official said the assessment could take as long as a year, slowing down the full installation of a missile system that China opposes.
During his election campaign, Moon called for a review of the deployment of the Terminal High Altitude Area Defense shield that was approved by his predecessor Park Geun-hye. He ordered an investigation last month into how the final components of the Thaad battery arrived in the country without the defense ministry informing him.
Two of the six launchers that form a complete battery were deployed in April in Seongju county, more than 200 kilometers (125 miles) southeast of Seoul, amid protests from residents. The remaining four launchers are needed to make the system fully operational.
Minimize Effectiveness
"Only having two deployed will certainly minimize the strategic effectiveness of the system," said Michael Raska, an assistant professor in the military transformations program at the S. Rajaratnam School of International Studies in Singapore. "Of course, that doesn't mean that they won't have any coverage at all." 
U.S. Defense Secretary James Mattis said last week that Thaad was dispatched to respond to the "real problem" of North Korea, which has tested ballistic missiles nine times this year as part of its nuclear weapons program. China objects to the deployment over concerns its powerful radar would allow spying on its own missile systems.
"There is a confluence of South Korea's domestic policy in a country that is deeply divided over this issue and Chinese pressure at play here," said Raska. "If South Korea accepts Thaad, it becomes increasingly dependent on the U.S., and South Korea is becoming increasingly worried about any unilateral decision by the United States against North Korea."
China is aware of the report and is following domestic developments in South Korea closely, foreign ministry spokeswoman Hua Chunying said at a news briefing in Beijing. "No matter what happens, we are firmly opposed to the deployment of the Thaad system," she added.
The news was featured on the home page of China's Communist Party-affiliated Global Times, which ran a headline with two exclamation marks.
— With assistance by Ting Shi, Hooyeon Kim, and Peter Martin
Before it's here, it's on the Bloomberg Terminal.
LEARN MORE