politics
Merkel Nuclear-Tax Blunder Returns to Haunt Her in Election Year
By and
Court verdict hands Social Democrats election-year ammunition

6.3 billion-euro budget hole 'embarrassing,' Kemfert says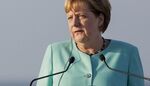 Angela Merkel was forced to revisit a low point of her chancellorship after Germany's top court threw out a 2011 levy on nuclear operators, handing her opponents a stick to beat her with in an election year.
The ruling on Wednesday exposed a policy blunder by Merkel's previous government, raised questions about the impact on Germany's balanced budget and returned attention to the chancellor's abrupt shift to renewables after the Fukushima nuclear disaster. Critics say she exploited the accident to scrap her unpopular pursuit of atomic power.
Germany's Social Democrats seized on the verdict as the latest poll showed them trailing Merkel's party bloc by 15 percentage points ahead of a national election on Sept. 24.
It's "a resounding slap in the face" for Merkel's second-term coalition with the Free Democrats, Environment Minister Barbara Hendricks, a Social Democrat, said in a statement. "The fact that this bungle still pays off for the nuclear operators years later makes the verdict of the Federal Constitutional Court a colossal irritation."
As the court ordered the government to reimburse utilities, Merkel and Finance Minister Wolfgang Schaeuble were left to fill a hole of 6.3 billion euros ($7.1 billion) plus interest in an election-year budget they promised to balance for the fourth time in a row.
Pent-Up Problem
"This was a problem waiting to bounce back on Merkel," Claudia Kemfert, an economist at the German Institute for Economic Research in Berlin, said by phone. It's a "costly, embarrassing error" that's "a blemish on her fiscal and energy legacy," Kemfert said.
Asked about the fiscal impact, Merkel told reporters in Berlin on Wednesday that "the big goals are not in danger." The balanced-budget goal remains valid and new borrowing or a supplementary budget won't be needed, Finance Ministry spokesman Juerg Weissgerber said.
Merkel introduced the nuclear-fuel tax in January 2011 with the blunt reasoning -- stated in the bill's preamble -- that the government needed the money after boosting spending during the financial crisis of 2008-2009. Some of the revenue was earmarked for repairing a leaking underground nuclear-waste site.
'Poorly Advised'
Two months later, the Fukushima disaster prompted Merkel's U-turn. Her Christian Democrat-led bloc and the Free Democrats legislated the shutdown of all German nuclear power plants by 2022, shifting the focus to getting utilities to pay for decommissioning costs. Some 6.28 billion euros in levies were paid by the companies from 2011 to 2016, according to Finance Ministry data.
"If Merkel had told consumers back then, 'We're using this money to cut your electricity costs and to help to dispose of nuclear waste safely then it's hard to take issue with that," Kemfert said. "But using the money to resuscitate the budget and even saying so shows how poorly advised she was."
Before it's here, it's on the Bloomberg Terminal.
LEARN MORE