India Keeps Interest Rates Steady as It Monitors Inflation Drop
By
Remonetization, lower interest rates should support consumers

RBI reduces inflation forecasts for the second half of year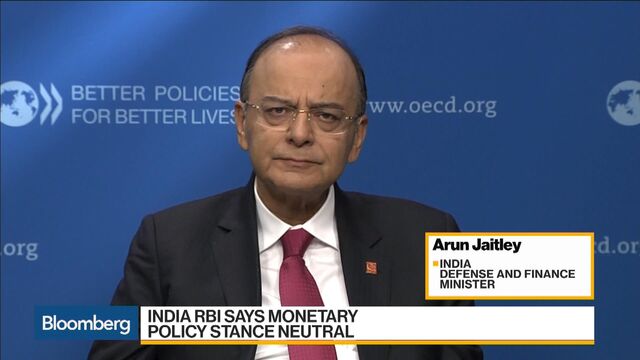 India kept interest rates unchanged as expected, as the central bank shrugged off slowing growth and vowed to continue to assess whether a drop in inflation to a record low in the $2 trillion economy was transitory.
The Reserve Bank of India, led by Urjit Patel, kept its benchmark repurchase rate at 6.25 percent while maintaining its neutral stance, according to a statement in Mumbai on Wednesday. The move was predicted by all but two of the 50 economists in a Bloomberg survey who expected a cut to 6 percent.
"The easing of inflation excluding food and fuel may be transient in view of its underlying stickiness in a situation of rising rural wage growth and strong consumption demand," the bank said in a statement released on its website.
In a media conference following the statement's release, Patel said: "The reading for April surprised on the downside and imparted high uncertainty to the outlook. This necessitated a revision to our projections."

Key points from the statement:
Headline inflation projected at 2 percent to 3.5 percent in the first half of the year from 4.5 percent previously
Forecast for gross value added reduced by 10 basis points to 7.3 percent from April
Remonetization, lower interest rates should support consumer spending
RBI will work with government to address the stress in banks' balance sheets
Prime Minister Narendra Modi's ban on high-denomination bank notes in November -- aimed at stamping out corruption -- has dragged on activity. Gross domestic product expanded by 6.1 percent in the January to March quarter, the slowest in two years, and India ceded its crown as the fastest growing major economy to China during the period.
Still, analysts expect growth to pick up in the rest of the year. A normal monsoon is poised to boost rural incomes while increased government spending, and higher allowances for workers in the public sector, may bolster consumption and activity.
Activity in the services sector jumped in May, according to the latest purchasing managers' index while industrial output rose 2.7 percent in March from a year earlier.
This policy is clearly dovish relative to last policy as they brought down their inflation forecast, says Vivek Rajpal, a Singapore-based rates strategist at Nomura Holdings Inc. in Singapore. "It's kind of a dovish turn."
The yield on the benchmark sovereign bonds fell 6 basis points to 6.58 percent. The rupee rose 0.1 percent to 64.3450 per dollar.
This is the first decision of the monetary policy committee -- which held its initial meeting in October 2016 -- that was not unanimous. Five members were in favor of the monetary policy decision, while Ravindra H. Dholakia was not in favor, the RBI statement noted. The minutes of the MPC's meeting will be published by June 21.
Return to Stability
The move marks a return to stability for the central bank after policy surprises earlier this year. The RBI unexpectedly changed its stance from accommodative to neutral in February, signaling an end to its two-year rate easing cycle. In April, it surprised investors again by raising the reverse repo rate as it sought to absorb some of the excess cash sloshing in the banking system from the cash ban. Surplus liquidity still stands at about $60 billion.
While headline inflation dropped to a record low 2.99 percent in April, core inflation, which strips out volatile food and fuel costs -- was at 4.5 percent, according to ICICI Bank Ltd. The RBI aims to keep inflation near 4 percent in the medium term.
Patel said in April that although headline inflation may have undershot its target in fiscal fourth quarter ended in March, the outlook called for "close vigilance" on prices.
The RBI's move also comes just days before the Federal Reserve is expected to raise rates with expectations growing that it may start to shrink its balance sheet later this year, a move that may slow capital flows into emerging markets. The introduction of India's national goods and services tax, scheduled for July 1, could also cause short-term disruption.
Before it's here, it's on the Bloomberg Terminal.
LEARN MORE