Europe's Bank Undertaker Passes Its First Test
The Single Resolution Board forced the sale of an ailing Spanish bank, and buyer Santander says it's great news for Europe.
By and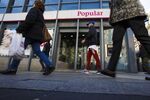 Banco Popular Espanol SA was declared to be failing by the European Central Bank late on Tuesday evening.
On Wednesday morning, its branches opened for business as usual, with its 77 billion euros ($86 billion) of deposits available: no market panic, no lines of desperate clients at cash machines, no political finger-pointing.
The calm was a victory for the European Union policy makers and bureaucrats who had spent years building the machinery for euthanizing major banks without using taxpayers' cash or setting off a domino effect in the markets. And by all accounts, the debut of the Single Resolution Board was by the numbers. Overnight, the Brussels-based authority signed up Banco Santander SA to take over Banco Popular for a euro, and ensured that functions such as deposit-taking and payment services were never interrupted.
How Spain's Zombie Bank Rescue Snares Bondholders: QuickTake Q&A
"The supervisors have acted fast," Santander Chairman Ana Botin said on Bloomberg TV. "I want to stress this is the first situation where the Single Resolution Board has acted. This is really great news for Europe, the financial sector and Spain they were able to do this in the way it has been done."
The EU had faced mounting concern that its rules for handling bank failures wouldn't work when the time came. Critics pointed to Italy's campaign to prop up banks including Banca Monte dei Paschi di Siena SpA, rather than wind them down, as evidence that the political will was lacking to pull the plug on a major firm.
Test Case
In some ways, Banco Popular was a good first test for the Single Resolution Board, led by Elke Koenig, a former head of Germany's bank supervisor BaFin. The scale of its problems meant that more radical tools, such as imposing losses on senior creditors, didn't have to be deployed. Instead, shareholders were wiped out, along with holders of the bank's riskiest debt.
"This shows that banks can be resolved without generating systemic effects," said Isabel Schnabel, a professor of financial economics at the University of Bonn and one of German Chancellor Angela Merkel's economic advisers. "This is good news for the credibility of the new resolution regime."
This case answers some questions about the EU's ability to take down a large bank, but not all. It sheds little light on how the system would cope with a bank of global proportions. "If one of them had failed yesterday instead of Banco Popular, the headlines today would be very different," said Benoit Lallemand, secretary general of the independent watchdog Finance Watch.
Still, Banco Popular suffered from the same affliction that affects many others in the euro area: a mountain of nonperforming assets—36 billion euros, in the Spanish lender's case. So the authorities' readiness to act may put other countries on notice, including Italy, which in addition to Monte Paschi has pushed to rescue two other shaky banks, Banca Popolare di Vicenza SpA and Veneto Banca SpA.
Big Impact
"It will have a big impact on the Italian debate," said Nicolas Veron, a senior fellow at the Bruegel think tank in Brussels. "It removes a lot of the rhetorical and obstructionist fog that exists in Italy right now," he said, and could increase the possibility that the two smaller banks could be resolved.
A visibly exhausted Koenig made clear to reporters on Wednesday morning that while from the outside the restructuring and sale of the bank may have come off without a hitch, behind the scenes, everyone had to hustle to make it happen.
"Everyone was aware that we had to work as fast as possible so that we could make it overnight," she said. "I would not suggest to make it a role model for the future. There is a good reason to once in a while have a weekend for this."
Before it's here, it's on the Bloomberg Terminal.
LEARN MORE