China Missiles Can Send Nukes to Western Pacific, U.S. Says
By
DF-26 deployed last year, expanding reach in contested region

Pentagon releases annual China military report to Congress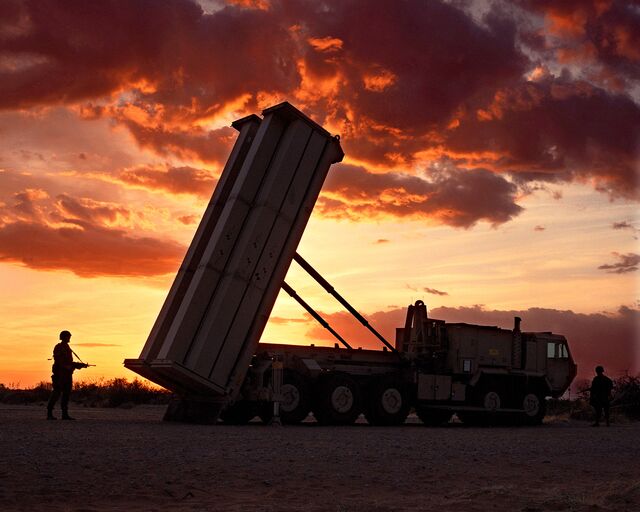 China's deployment of missiles able to deliver nuclear warheads to U.S. bases on Guam were among the military advancements highlighted in an annual Pentagon report.
The intermediate-range Dongfeng-26 rockets could also be used for conventional strikes against ships in the Western Pacific, the U.S. Department of Defense said in its annual assessment of China's military. The deployment has been anticipated since at least September, when the missiles were displayed during a military parade hosted by President Xi Jinping.
The weapons represent China's latest strategic advancement after two decades of budget increases that turned it into the world's second-largest military spender. The modernization drive, which has focused on expanding China's air and naval reach, is challenging more than 70 years of U.S. military dominance in the Western Pacific.
In 2016, Xi also began a sweeping structural overhaul of the military that saw the elevation of China's rocket force to a branch equal with the army, navy and air force. The DF-26 joins an arsenal that includes DF-21 "carrier killer" missiles.
The report confirmed that China's Jin-class submarines are now equipped with JL-2 submarine launched ballistic missiles, boosting its sea-based nuclear deterrence. The Pentagon has been predicting since at least 2014 that China would carry out patrols of the submarines with the missiles aboard.
Taiwan, Drones
Chinese foreign ministry spokeswoman Hua Chunying said at a regular press briefing in Beijing on Wednesday that the report had made "irresponsible remarks about China's defense and development which disregard the facts." She said China was a force for stability in Asia and elsewhere in the world.
The Pentagon report noted several security developments regarding China last year, including cooling relations with Taiwan, drone sales to Pakistan, the construction of a military base in Djibouti in Africa and the continued use of "low-intensity coercion" tactics in the disputed South China Sea.
The report comes days after U.S. Defense Secretary James Mattis warned China against actions that "impinge on the interests of the international community, undermining the rules-based order that has benefited all countries" at a security forum in Singapore.
The Pentagon said that China continued to build the capacity for overseas expeditions by developing army aviation units, special forces and aircraft carriers, with China's first domestically built vessel expected to be operational by 2020. China would probably complete its first overseas base in the East African nation of Djibouti within the next year and later pursue similar arrangements in countries such as Pakistan, it said.
— With assistance by David Tweed, and Peter Martin
Before it's here, it's on the Bloomberg Terminal.
LEARN MORE