Electoral Court Keeps Brazil in Suspense on Temer's Fate
By and
Court ruling whether to annul winning ticket of 2014 election

Extra sessions now scheduled for Friday and Saturday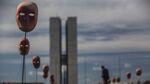 Brazil's top electoral authorities kept the nation in suspense after adjourning for the second consecutive day a trial that could unseat President Michel Temer.
Prosecutors maintain that former President Dilma Rousseff and her then running mate, Temer, received illegal campaign financing, part of which allegedly came from a corruption scheme involving state-run companies. If a majority of the seven-member court agrees and annuls the winning ticket, Temer could be ousted from office. Both Temer and Rousseff deny wrongdoing.

The court ruling takes place amid a political crisis triggered by corruption allegations against Temer last month. Investors and political allies are awaiting the court's decision to gauge whether a fiscal reform agenda including a crucial pension overhaul proposed by Temer could still advance. Proceedings were scheduled to finish on Thursday, but extra sessions have now been called for Friday and Saturday.
"The willingness to hold extraordinary sessions suggests they now want to conclude the judgment," said Gustavo Guedes, Temer's lawyer, after Wednesday's hearing. Rousseff's attorney agreed with the assessment.
Financial markets rallied for much of the past year on bets that reforms would help Brazil recover from its deepest recession on record. They sold off last month when a fresh political scandal engulfed Temer, raising questions about his ability to lead the country. Stocks posted gains on Wednesday on bets the president will survive the electoral court trial. On Wednesday, Temer repeated his intention to stay in power until his mandate ends on December 31, 2018.
What to Expect From Brazil's Top Electoral Court Ruling
'Failed System'

Temer's government, which started last year after Rousseff's impeachment, faces two other major threats besides the electoral court: pending impeachment requests and an investigation authorized by the Supreme Court into allegations of obstruction of justice and passive corruption.
He would be better positioned to overcome the remaining threats if electoral judges quickly find him not guilty of illegal campaign financing, political risk consultancy Eurasia said. "If the court in fact rules this week to absolve Temer, he isn't out of the woods. But the odds of Temer falling would drop from 60% to around 30%," Eurasia's managing director Christopher Garman wrote in a report on Wednesday.
Brazil's Latest Political Crisis: A Timeline of Events
The electoral court on Wednesday discussed requests to exclude recent evidence that could be used to support claims of off-the-books financing. Since the case was filed in 2014, prosecutors working in the so-called Carwash corruption probe gathered dozens of plea bargains describing how builders bribed politicians and executives in state-run companies to win overpriced public works contracts. Part of those bribes were allegedly used to finance political campaigns.
— With assistance by Walter Brandimarte, and Simone Preissler Iglesias
Before it's here, it's on the Bloomberg Terminal.
LEARN MORE