Saudi-led Rupture With Qatar Pushes Nation Into Iran's Embrace
By
Feud isn't returning emirate to Saudi Arabia's fold for now

Qatar Airways reroutes via Iran in response to blockade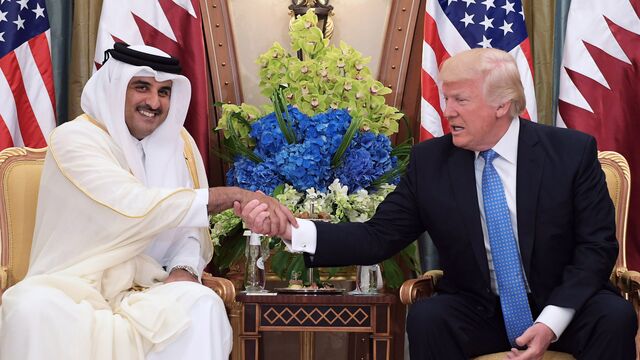 The Saudi-led rupture with Qatar is backfiring where Iran is concerned -- at least for now.
If the severing of ties was intended to force the Gulf nation back into Saudi Arabia's fold and further isolate its key rival, Shiite Iran, then the opposite is happening. Qatar responded to the blockade by Saudi Arabia, the United Arab Emirates, Bahrain and Egypt by rerouting flights to Africa and Europe via Iran, which has rallied to its ally's defense.
"In terms of Realpolitik, this is good for Iran," said Foad Izadi, a member of the Faculty of World Studies at the University of Tehran. Qatar is "blocked from all sides except the side that looks at Iran."
Saudi Arabia accuses its fellow Gulf Cooperation Council member of supporting a range of militant groups, from Iranian proxies to the Sunni militants of Islamic State. Qatar, which has long vexed the kingdom with its maverick alliances, has dismissed the charges as baseless, and accused the Saudis of seeking to dominate the region.
Under Blockade
On Monday, Saudi and its allies suspended flights and sea travel to Qatar and land crossings through which vital food imports pass were snapped shut. Thousands of trucks carrying food across Saudi Arabia's land border with Qatar were stopped, the Riyadh-based Al Eqtisadiah newspaper reported. The aviation ban, which has led to a loss of direct traffic between Qatar and its neighbors, also means the small Gulf nation will have to absorb new costs of rerouting flights through Iran, which sits on the other side of the Persian Gulf.
With Iran able to provide quick fixes to some of Qatar's woes, however, the clash is pushing the two nations closer.
Iranian Foreign Minister Mohammad Javad Zarif waded into the fray on Monday, saying on Twitter that "coercion is never the solution" and "dialogue is imperative," especially during the Muslim holy month of Ramadan. Hours later, he spoke by phone with his Qatari counterpart to discuss the feud, according to Iran's Tasnim news agency.
Willing to Forget
"Iran seems to be willing to forget the difficulties in the past years and help Qatar," Izadi said, noting differences over the conflict in Syria, where Iran is backing President Bashar al-Assad. "Qataris now depend on Iran to survive with regards to air corridors and shipping lanes."
State-run Airports & Air Fleet Co. of Iran has made preparations to receive an additional 100 to 150 flights daily from Qatar, Rahmatullah Mahabadi, the company's managing director said in a Payam Radio broadcast. Revenue to Iran will grow as a result. Iran also said it was ready to ship food to the emirate, which relies on imports.
With Qatar isolated from its neighbors, "Iran is the closest country that can export food to Qatar within 12 hours by sea," the Tehran-based Donya-e-Eqtesad newspaper quoted Seyed Reza Nourani, the head of Iran's Agricultural Products Exporters Union, as saying. "Iran is ready to export a variety of agriculture and food products to Qatar via its three Iranian ports."
Trump Visit
The feud escalates a row that broke out after U.S. President Donald Trump's visit to Saudi Arabia last month, when he called on "all nations of conscience" to isolate Iran.
State-run Qatar News Agency followed that visit with comments by Qatari ruler Sheikh Tamim bin Hamad Al Thani, criticizing mounting anti-Iran sentiment in the Gulf. The remarks were quickly deleted and blamed on hackers. Unmollified, Saudi and U.A.E. media outlets launched a verbal war against Qatar, which escalated after Sheikh Tamim spoke by phone with Iranian President Hassan Rouhani in apparent defiance of Saudi criticism.
On Monday, the spat degenerated into a full-blown rift.
"Whether this new attempt is going to create a new direction for Qatar, we don't know yet," Izadi said. But "yesterday and today, Iran and Qatar's relations are much stronger than last week."
— With assistance by Hashem Kalantari
Before it's here, it's on the Bloomberg Terminal.
LEARN MORE