Santander Said to Weigh Stock Sale on Possible Popular Bid
By , , and
Spanish bank could use sale to bolster its capital levels

Share sale to happen only if Santander bids for Banco Popular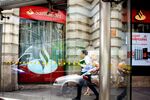 Banco Santander SA is considering a capital increase of more than 5 billion euros ($5.8 billion) as part of a potential offer for its smaller rival, Banco Popular Espanol SA, according to people familiar with the matter.
Santander is speaking to advisers about potential underwriting commitments for a stock sale if it decides to go ahead with an offer for the troubled Spanish lender, the people said, asking not to be identified as the talks aren't public. The bank would use the sale to bolster its capital levels, which might be eroded by absorbing Popular, and could also raise a larger amount, they said.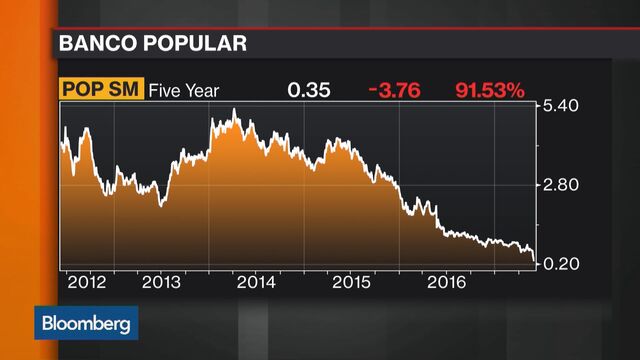 No final decision has been made on the potential offer and how it would be funded, and a stock sale would happen only if Santander decides to bid, they said. A representative for Santander declined to comment.
Popular is running out of time to repair its balance sheet, battered by soured real estate loans that are eroding capital. Chairman Emilio Saracho on Friday appealed to the Spanish lender's managers to go about their business as normal and reassure clients, telling staff the firm remains solvent. The shares have dropped 53 percent since the beginning of last week giving the company a market value of 1.33 billion euros. It's unclear how much a bidder would pay for the company.
Popular, which has said that a share sale is another option, has been offloading assets to bolster its financial position. The bank has raised at least 209 million euros in recent weeks by agreeing to sell its remaining stake in Targobank -- a joint venture with Credit Mutuel -- as well as a minority stake in real estate company Merlin Properties Socimi SA.
Rating Downgrades
DBRS Ratings Ltd. said it an statement on Tuesday that it downgraded Popular's debt to junk, cutting it two levels to BB (low). The agency cited "increasing concerns over the bank's ability to restore its very weak capital levels following a significant deterioration of investor and customer confidence in recent days." Moody's Investors Service also cut Popular's credit rating by two steps to B3, six rungs below investment grade.
Popular has been exploring ways to bolster its cash and short-term funds and has discussed its options with the European Central Bank in recent days, according to a person familiar with the situation. It's unclear if additional liquidity was granted.
Santander last raised funds in January 2015, selling stock worth 7.5 billion euros in the largest offering of its kind in Spain, according to data compiled by Bloomberg.
Santander's fully loaded common equity Tier 1 ratio, a measure of financial strength, rose to 10.66 percent from 10.55 percent in the fourth quarter. Santander is seeking to lift the ratio -- still low compared with European peers -- above 11 percent by 2018.
Before it's here, it's on the Bloomberg Terminal.
LEARN MORE