Mexico's Fiery Populist May Need to Tone It Down to Win in 2018
By and
Lopez Obrador is making his third straight run for top office

'Extremely confrontational' style limits his appeal: analyst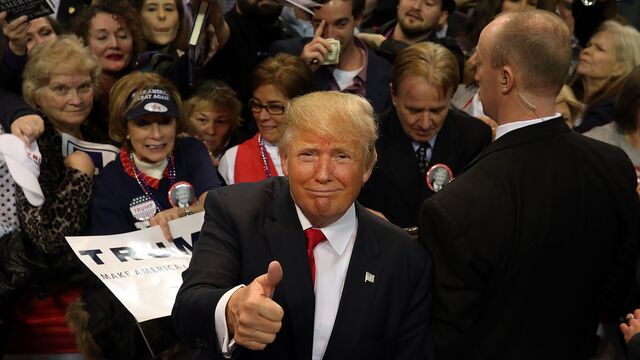 For Mexican presidential front-runner Andres Manuel Lopez Obrador, Sunday's election must have been bittersweet.

The movement he founded just three years ago came close to unseating the ruling Institutional Revolutionary Party in its heartland: President Enrique Pena Nieto's home state of Mexico.
Yet coming up three percentage points short left Lopez Obrador's Morena party with none of the nation's 31 governor's offices and no access to potential funding that such power provides for national campaigns. Under such conditions, if Lopez Obrador is going to win the presidency next July, tapping into voter outrage at graft, crime and Donald Trump won't be enough. He'll need to broaden his appeal and curtail his threats against an establishment that he condemns as the "mafia of power."
"To do that, he would need to change his entire style of the past 15 to 20 years," said Jorge Chabat, a political scientist at the Center for Economic Research and Teaching, a Mexico City-based university. "When your speech is extremely confrontational, it's difficult to expand your support beyond your close circle of 'true believers.' And that's what you need to win."
A wave of anger at Donald Trump's border wall, Nafta threats is helping fuel Lopez Obrador's surge
Lopez Obrador, 63, was at it again Sunday night, using Twitter to call the results in the State of Mexico , the country's most populous, a farce and denounce everyone from electoral authorities and Pena Nieto to the media. Rejecting the entire system fits the style of a politician whose supporters blocked the iconic main boulevard of Mexico City after he lost the presidential election in 2006 by less than one percentage point to protest what they called a rigged result.
The challenge for Lopez Obrador, known as Amlo in Mexico, is to convince voters that he will be more like Brazil's Luiz Inacio Lula da Silva -- who fought for social progress while preserving market-friendly reforms from his predecessor --, and less like Hugo Chavez, who destroyed capitalism in Venezuela, Chabat said. Amlo vows to cancel a new $13 billion airport that's already being built for Mexico City, where he served as mayor, and hold a referendum on undoing parts of a 2013 oil-industry opening.
Investor concern is palpable. Mexico's peso initially fell Sunday night when it looked like Morena's candidate might win, only to rally the most in almost three months once the party's defeat became obvious.
Lopez Obrador's press team didn't immediately respond to an e-mailed request for comment.
Bloomberg Intelligence: Potential U.S. Policy Changes Still a Risk for Mexico
One natural place for Lopez Obrador to look for allies would be his former home, the Party of the Democratic Revolution, or PRD, which shares some positions with him. Teaming up in the State of Mexico might have delivered a victory Sunday; the parties' candidates received a combined 49 percent of the vote, easily exceeding the the 34 percent that gave Pena Nieto's PRI its narrow win.
Instead, they traded accusations of blocking the path to victory for Mexico's left, with Lopez Obrador and the head of the PRD each urging the other's candidate to drop out. Lopez Obrador gave his former colleagues an ultimatum, saying that if the PRD wouldn't join forces with Morena ahead of Sunday's race, it should forget about an alliance for 2018.
The PRD instead formed an alliance with the conservative National Action Party. Together they won the governor's office in the Pacific state of Nayarit on Sunday, repeating a victory from last year in Veracruz. While they ran separate candidates in the State of Mexico, in the final weeks of this year's campaign the parties reached an agreement to work together for 2018, a prospect that could prove a greater impediment than the PRI for Amlo.
Lopez Obrador needs to somehow reconcile with the PRD and unite the left to have a chance at victory, said Federico Estevez, a political-science professor at the Mexico Autonomous Institute of Technology, or ITAM, a private university in the nation's capital.
"You can't go around commandeering what might be allies on the left and make them feel uncomfortable in public by demanding that they bow down and scrape," Estevez said. "Look where it got him."
The left "won 50 percent of the vote, and yet the PRI gets the governorship."
Before it's here, it's on the Bloomberg Terminal.
LEARN MORE