McConnell Says Senate Is Nearing Obamacare Bill as Doubts Linger
By and
Some Republicans say they don't expect a plan anytime soon

GOP senators discussing ways to stabilize insurance markets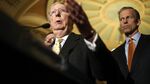 Senate Republicans are getting closer to introducing their plan to replace Obamacare, Majority Leader Mitch McConnell said Tuesday, though he gave no details and some members said they're not expecting action on a bill anytime soon.
"We're getting closer to having a proposal that we'll be bringing up in the near future," McConnell of Kentucky told reporters after a closed-door Senate GOP luncheon. "We've had seven years to talk about health care," he said. "We believe we can do better than the status quo."
Another key Republican also expressed optimism. "I'm very encouraged," said Republican Senator Bill Cassidy of Louisiana, who is seen as a pivotal vote. "Of course, it's not everything I want, but that's life."
But Senate Finance Committee Chairman Orrin Hatch of Utah said that while Republicans are talking with the nonpartisan Congressional Budget Office on various ideas, "we are not there yet." Asked when a Senate bill may be introduced, he said, "I doubt it will be real soon."
Campaign Pledge


Senate Republicans are seeking consensus on a more modest heath plan than the one passed May 4 by the House as they seek to keep their campaign pledge to repeal and replace the 2010 Affordable Care Act. A 13-member working group of Senate Republicans includes lawmakers with varying views.
Senators had said earlier they were weighing a two-step process that would postpone a repeal until 2020, with an initial priority on stabilizing premium costs in Obamacare's insurance-purchasing exchanges in 2018 and 2019 and continuing subsidies that help low-income Americans afford individual policies.
President Donald Trump told reporters Tuesday, "I'm sure the Senate will follow through and get a bill across the finish line this summer that will be great health care for Americans." But Senate GOP members weren't talking about timetables.
Republicans, including John Thune of South Dakota and Susan Collins of Maine, say stabilizing the markets is vital after insurers dropped out of providing individual insurance coverage in Iowa, Missouri, Tennessee and other states.
"I hope it could ride together" with long-term changes to health-care system, but Congress may need to make short-term revisions quickly to reassure the markets, Thune said.
Blue Cross
Anthem Blue Cross and Blue Shield said Tuesday that it's dropping individual exchange coverage in Ohio next year, citing a "lack of certainty of funding" for cost-sharing subsidies the government pays insurers to help reduce low-income Americans' health costs and "an increasing lack of overall predictability" in the market.
Senator John Barrasso of Wyoming, a member of the Republican leadership team, said senators are discussing a rollback of Obamacare's expansion of the Medicaid program for low-income Americans, but not as abruptly as the House bill, H.R. 1628. The House measure would end the expansion in 2020 as part of program cuts of $834 billion over a decade. He said the Senate GOP is looking at a "glide path" lasting beyond 2020.
Senator David Perdue of Georgia, a Trump ally, said he has a "much better" sense of where the Senate is headed on health care.
"I'm still nervous because it's tough to get 50 votes in this environment," he said. But he added, "I'm seeing more and more clarity, and a narrower and narrower focus, and a smaller and smaller difference in the caucus."
Expressing Doubts
A number of Senate Republicans have expressed doubt in the last week about whether the Senate can pass health-care legislation this year, including Lindsey Graham of South Carolina, Richard Burr of North Carolina, Ben Sasse of Nebraska, Jeff Flake of Arizona and Ron Johnson of Wisconsin.
The House barely managed to pass its version of the bill with a razor-thin 217-213 vote after weeks of talks with Republican dissidents. The CBO said May 25 that Republicans' revised bill would undermine insurance markets in some states and result in 23 million more people without insurance.
Also Tuesday, the Senate Budget Committee reported that the House measure meets requirements to allow the Senate GOP to avoid a Democratic filibuster and pass a health bill with a simple majority.
Democrats had argued that some provisions violated the requirements and that the House would have to vote on the bill again to remove them. The Senate proposal still will have to go through a procedure to excise provisions seen as extraneous to budget issues.
Senate Democrats are ramping up the pressure, calling the House bill a large tax cut for the wealthy in a thin disguise. The House bill includes $664 billion in tax cuts over a decade, while also cutting Medicaid and making other reductions in insurance subsidies for low-income and sick people.
Senate Minority Leader Chuck Schumer, a New York Democrat, said that Republicans are finding themselves in "no man's land" by trying to use a streamlined process to pass an Obamacare replacement without Democratic support.
'Political Tool'


The Trump administration's decision to hold cost-sharing payments "hostage as a political tool" is to blame for insurance companies deciding not to offer coverage in certain areas, Schumer said.
Senator Ron Wyden of Oregon, the top Democrat on the Senate Finance Committee, on Tuesday called the House bill "Robin Hood in reverse" and said it "moves America back to yesteryear, when health care was for the healthy and the wealthy." Wyden said he has little reason to think Senate Republicans will abandon the House bill's general framework.
Polls have found the House bill is unpopular. Fifty-five percent of adult Americans have an unfavorable view of the measure, while 31 percent view it positively, according to a May 16-22 poll by the Kaiser Family Foundation. Only 8 percent of those surveyed think the Senate should pass the House measure without changes.
— With assistance by Steven T. Dennis, Jennifer Jacobs, and Erik Wasson
Before it's here, it's on the Bloomberg Terminal.
LEARN MORE