Comey Will Stop Short of Saying Whether Trump Obstructed Justice, Source Says
By
Ex-FBI chief will share details of conversations with Trump

Comey will testify to Senate Intelligence panel on Thursday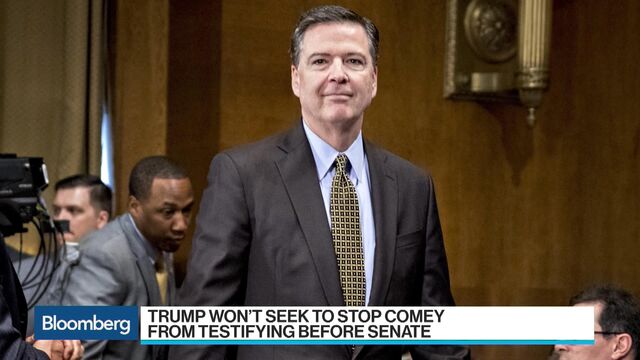 Fired FBI Director James Comey will publicly describe conversations with Donald Trump but stop short of saying if he thinks the president sought to obstruct a federal probe of Russia's role in the 2016 election, according to a person familiar with Comey's thinking.
Comey will describe in detail many of his interactions with Trump during a closely watched Senate Intelligence Committee hearing on Thursday, according to the person. He has already coordinated his testimony with Robert Mueller, another former FBI chief who's now special counsel in charge of the Russian investigations, the person said, speaking on condition of anonymity in advance of the hearing.
In his first public appearance since being dismissed, Comey is expected to address several controversies, including whether Trump pressured him to drop an inquiry into fired National Security Adviser Michael Flynn. He'll also probably discuss the president's claim that Comey assured him on three occasions that he wasn't the subject of any investigation. ABC News reported on Comey's plans earlier.
"The hot gases of politics will be swirling around that room on Thursday," said Ronald Hosko, a former senior FBI agent. "I think everybody's who's watching intently on Thursday will be making credibility assessments."
Comey's testimony comes less than a month after Trump abruptly fired him, a move that the White House initially attributed to Comey's handling of the FBI probe into Hillary Clinton's use of a private email system last year. But Trump later said the Russian investigation was on his mind when he made the decision, which spawned a series of damaging leaks that the White House has struggled to recover from.
Read Why 'Obstruction of Justice' Is Echoing in Washington
The hearing on Thursday promises to be a pivotal moment for Trump's presidency, with the major television networks carrying it live. Comey's most recent appearances before Congress delivered political bombshells including public confirmation that the Russia probe extended to whether anyone close to Trump colluded with Moscow, as well as the FBI chief's defense of his decisions in the Clinton email investigation.
Hosko, now president of the Law Enforcement Legal Defense Fund, said he doesn't expect Comey to bring to the hearing detailed memos he wrote after his meetings with Trump.
"You're going to have senators who probably challenge Comey to some extent because they don't like what he's done in the past," Hosko said. "I would look for Comey to be circumspect and very deliberate in his descriptions of meetings so as to not to taint any future potential testimony."
The White House on Monday said it wouldn't invoke executive privilege to block Comey from discussing his interactions with Trump, easing concerns that the president might seek to disrupt the hearing. Some legal experts questioned whether the White House could even pursue that claim.
During a brief White House photo opportunity with congressional leaders on Tuesday, Trump was asked by reporter if he had any message for Comey before his testimony.
"I wish him luck," the president said.
— With assistance by Jennifer Jacobs
Before it's here, it's on the Bloomberg Terminal.
LEARN MORE