Balance of Power: Just How Close Is the U.K. Election?
By and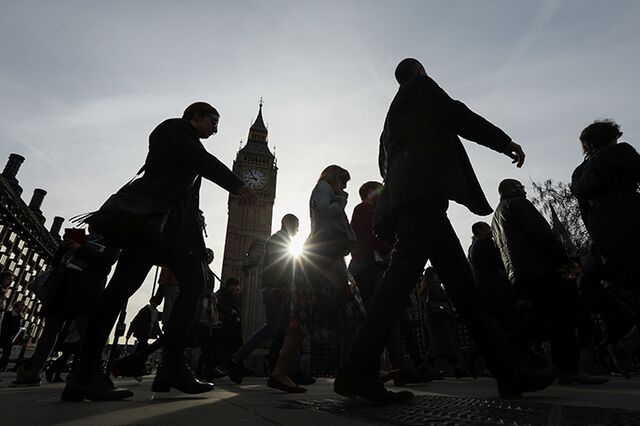 Britain's election was supposed to be all about Brexit. But it has turned into a blame game over who is best placed to fight terrorism.
After the London and Manchester attacks, Theresa May says that only she can be trusted on the issue and accuses opposition leader Jeremy Corbyn of sympathizing with terrorists in the past. Corbyn retorts that May was in charge of internal security for six years before becoming prime minister and failed to make Britons any safer.
It's impossible to say how this will play out in Thursday's election. True, May's commanding lead has disappeared in some polls, with one on Tuesday putting the Conservatives just two points ahead of Labour. But her strategists still seem confident -- former White House aide Jim Messina even tweeted last week that he'd spent the day "laughing" at one of the polls.
It's also worth noting where the leaders are campaigning in the final days. May is out in Labour-held areas of northern England that voted for Brexit. Corbyn, meanwhile, is defending districts that Labour already holds instead of attacking the swing seats he'll need if he's to win.
May's lead might not be so fragile after all.
Sign up to receive the Balance of Power newsletter in your inbox, and follow Bloomberg Politics on Twitter and Facebook for more.

Global Headlines
An Emir to the rescue | Kuwait's ruler is heading to Riyadh today, on a mission to make peace after Saudi Arabia and its allies isolated Qatar. But as Marc Champion writes, healing the rift won't be easy. The dispute has simmered for two decades as immense gas fields have allowed Qatar to choose its own friends.
U.S. diplomat quits over Paris withdrawal | The top U.S. diplomat in China has quit in protest of Trump's decision to leave the Paris climate change accord, people familiar with the matter say. The State Department confirmed that David Rank had left his post but wouldn't give an explanation. As Nick Wadhams reports, Rank's exit may add to suspicion among White House officials that many career diplomats oppose Trump's agenda or are working to subvert it.
Ratcheting up the debt-deal pressure | The White House called for Congress to raise the federal borrowing cap before lawmakers break for a month at the end of July. Mixed signals from two cabinet officials on whether a debt-limit increase should include the spending cuts conservatives want threatens to fuel a legislative showdown in the coming weeks.
Mexico's peso ignores Trump | With no sign of a border wall or a major crackdown on illegal immigration, Mexican currency traders are learning to stop worrying about Donald Trump. The currency has rebounded 20 percent since its low of 22 pesos per dollar in January and has now recovered most of its losses since his election.

Germany-Turkey split | Germany is set to pull its troops out of Turkey as a rift between the NATO allies deepens. Turkey has been blocking German lawmakers from visiting personnel stationed near the Syrian border as it complains that Germany is harboring Kurdish terrorists and using journalists as spies. Chancellor Angela Merkel called Turkey's stance "deplorable."
Brazil heads into the unknown | Brazil heads into the unknown | Brazil's embattled president, Michel Temer, could be forced from office if the country's top electoral court rules against him later this week. A long-delayed ruling on alleged illegal campaign financing took on added importance after last month's corruption allegations against Temer. He is expected to appeal any decision against him.
And finally... Amid messages of solitary and support, Brits have been reacting to the London Bridge attack with a good dose of sarcasm. An image of man trying not to spill his pint of beer as he and others fled the scene went viral -- the now-iconic photo embodying the U.K.'s ability to ``keep calm and carry on.'' In other shows of defiance there's a #islamicstateclaims hashtag trending on Twitter that mocks IS's apparent willingness to claim, well, anything.

--With assistance from Kathleen Hunter.
Before it's here, it's on the Bloomberg Terminal.
LEARN MORE