Australia Holds Rates as RBA Plays Long Game on Economy's Growth
By
Lowe warns first-quarter GDP growth expected to have slowed

Pace of economic slowdown may be 'more sustained': ANZ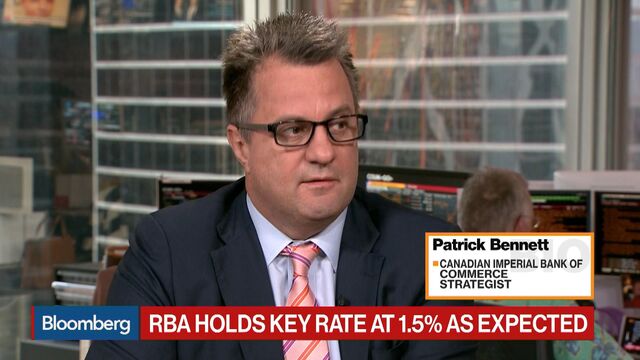 The Reserve Bank of Australia shrugged off a likely slowdown in the economy when it left its benchmark interest rate on hold for the 10th straight month on Tuesday.
Governor Philip Lowe said growth was still expected to accelerate above 3 percent in the next couple of years despite probably slowing in the March quarter, citing a broad-based pick-up in the global economy alongside a local improvement in jobs and non-mining investment. But he counter-balanced that with a warning: underemployment was keeping a lid on wage gains which in turn is restraining household spending.
The decision comes a day before the first-quarter GDP report, which economists expect to show growth of just 0.3 percent. Some are even forecasting a contraction for the three months.
"The RBA has opted to downplay the accumulation of evidence that first-quarter GDP will be soft," said David Plank, head of Australian economics at Australia & New Zealand Banking Group Ltd.. "This may well turn out to be right, but we think there are reasons to believe the pace of economic activity may have stepped down in a more sustained fashion."

Market bets for further easing have crept higher this year amid a cloudier outlook. While most economists still expect rates on hold or even higher in the next year, May data showed a mixed economic picture. Alongside strong jobs gains and a surprise rebound in retail sales, construction has been soft, wage growth stagnant and house prices dropped for the first time in 18 months.
Housing "prices have been rising briskly in some markets, although there are some signs that these conditions are starting to ease," said Lowe, adding that lenders have increased their mortgage rates, particularly for investors and interest-only loans.
Something Severe
"My sense is they're not going to cut interest rates unless something particularly severe happens," said Paul Dales, chief economist for Australia and New Zealand at Capital Economics. He said the potential triggers were "either the unemployment rate rising some way above 6 percent, underlying inflation falling back towards 1.5 percent or two consecutive quarters of negative growth, which is possible but not within my forecast." 
As far as inflation goes, the central bank's expectations are largely being met. The headline rate returned to the bottom end of the RBA's 2 percent to 3 percent target in the first three months of the year after spending nine quarters below it, but the core consumer prices measure is yet to catch up.
On the global outlook, Lowe said growth in Australia's top trading partner China was being supported by increased spending on infrastructure and construction, but repeated his warning that high levels of debt continued to present a medium-term risk.
While the RBA was upbeat on global prospects, China continues to be the wildcard, said Dales.
"Australia is so dependent on what goes on in China, and if any of the world's major economies are weakening, unfortunately it's China's."
Before it's here, it's on the Bloomberg Terminal.
LEARN MORE