technology
Alibaba Stumbles in Bid to Wrest Mobile Control From Tencent
By
Alibaba said to be disappointed with YunOS's performance

Tencent WeChat's mini programs challenge mobile landscape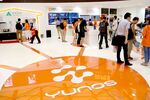 Alibaba Group Holding Ltd.'s six-year-old excursion into mobile operating systems is faltering in China, casting doubt over software that bears billionaire-founder Jack Ma's name and was once touted as key to countering Tencent Holdings Ltd.
China's largest e-commerce company debuted YunOS in 2011, a system that underpins search, shopping and browsing that its executives last year said could attain as much as 25 percent domestic market share by the end of 2016 -- surpassing Apple Inc.'s iOS. Six years on, YunOS' slice of China software installations stands at just 2.2 percent while its share of 2016 shipments was 10 percent, researchers Canalys and Counterpoint estimate, respectively. Alibaba disputes those numbers.
Alibaba managers have grown increasingly unhappy with its sluggish adoption and have begun an internal debate around the software's future, a person familiar with the matter said. No conclusions have been reached, the person said, asking not to be named discussing a confidential matter. Yet the talks reflect the inability of a once-vaunted initiative to forestall Tencent's dominance in the mobile arena, secured through the utility of WeChat -- a universal app that melds messaging, payments, media, shopping and on-demand services.
"Apart from Meizu, none of the other large mobile phone makers are working with them closely," Jia Mo, a Shanghai-based analyst at Canalys said by phone. And "Alibaba can only attempt to expand its mobile operating system in China. It could run into all sorts of IP issues if it tried to go overseas."
Meizu Technology Corp. is backed by Alibaba.
Alibaba folded the YunOS operation into its cloud computing division in February, the company said in an emailed statement. The Chinese firm said it will continue to invest in the software and push its wider adoption among the Internet of Things or connected devices, and pointed to recent advances such as a YunOS-enabled car it unveiled last year alongside automaker SAIC Motor Corp.
"YunOS is an important strategic business under Alibaba Group," it said. The company "will continue the investment into YunOS and our IoT ecosystem."
Android remains the most dominant operating system in China. Like Apple's, the software serves as a gateway to Google services from maps to search. In China however, many of its apps and functions are blocked by a government that censors information.
Positioned as an important component in Alibaba's shift to mobile, YunOS was offered in 2011 as a means to capture the time spent online by a growing population of mobile internet users, now standing at 695 million. The company wanted to grow beyond mobile e-commerce, hoping the software could increase usage in search, music and video. Its moniker could refer to either the cloud, a key element of the platform, or the company's founder, whose Chinese name is Ma Yun.
Despite YunOS' less than speedy take-up, Vice Chairman Joseph Tsai pledged in 2015 to continue investing and push its adoption in a plethora of devices from set-top boxes to TVs. Executives spoke in 2016 about offering the system for a new generation of connected cars, joining a battle to control the automobile dashboard.
It wasn't clear whether Alibaba executives were referring to installed base or shipments when they talked about their 25 percent target, but independent research shows YunOS hasn't caught on. The largest adopter of YunOS remains Meizu, a distant rival to Oppo, Huawei Technologies Co. and Vivo. YunOS was installed on 2.2 percent of Chinese smartphones as of the end of 2016 and that figure could inch higher to 2.8 percent this year, according to Canalys. The tally however doesn't include non-branded phones, many of which do work with Alibaba in return for subsidies, Jia said.
Counterpoint Research pegged YunOS' share of 2016 shipments at about 10 percent and growing to 12 percent this year. That uptick could be driven by Chinese government backing, carrier tie-ups and Meizu's latest models, said Zhang Mengmeng, a Counterpoint Research analyst.
Alibaba disputes those numbers, citing a report from Sino Market Research that shows YunOS powered more than 16 percent of phones shipped in the first quarter of 2016. A representative at the domestic consultancy declined to share more recent figures when contacted. Huawei, Oppo and Vivo's mostly Android phones commanded more than half of all Chinese phone shipments in the December quarter, according to IDC. Apple's share stood at 11 percent.
More broadly, Alibaba continues to lag Tencent in mobile as people ditch computers and the smartphone becomes their primary device. The online commerce giant's made great strides in migrating shoppers: it recorded 507 million mobile monthly active users as of March for its retail sites. But it's made less headway beyond its bread-and-butter shopping business.
Tencent took a different approach: instead of creating its own operating system or investing in phones, it directed traffic through WeChat.
WeChat branched out to include music, videos, shopping, building an audience of more than 937.8 million. It pioneered a service called Mini Programs, letting users access third-party apps without downloading them, akin to an OS. As of April, time spent on WeChat was more than twice that on Alibaba's Taobao or Tmall, Kleiner Perkins partner Mary Meeker said in her internet trends report, citing data from Hillhouse Capital. Hillhouse was an early backer of Tencent.
Meizu's own future is less than certain. Alibaba invested $590 million in the company in 2015, betting it would help the company establish a mobile foothold. But the startup has cut about 10 percent of its workforce since the start of the year, Caixin reported, following a 5 percent cut in 2016.
"If China's smartphone market consolidates further as expected, the big manufacturers such as Huawei, Oppo and Vivo will squeeze smaller players," said Canalys' Jia. "Based on current circumstances, it's quite difficult" for YunOS to get to a 20 to 25 percent market share.
(
Updates with analyst's comment in last paragraph.
)
Before it's here, it's on the Bloomberg Terminal.
LEARN MORE