China's Twitter Comes Back From the Dead
Weibo reignited user growth with partnerships and rural outreach.
Bloomberg News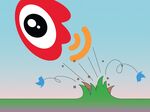 Three years ago, Weibo, China's closest analogue to Twitter, appeared to be losing out to messaging app WeChat. WeChat was designed principally for person-to-person communications, and its ­popularity soared after it incorporated mobile payment systems, while interest in public posts such as Weibo's started to wane. Weibo's parent, internet portal Sina Corp., decided to spin off the site, and with analysts predicting its demise, investors didn't show much interest in Weibo's initial public offering.
"It was a total disaster in terms of an IPO roadshow, I can tell you," says Charles Chao, Sina's chairman and chief executive officer, who's featured in this week's Decrypted podcast. The IPO raised $286 million, well short of expectations. "With internet products, once you lose momentum, it's very hard to come back."
But Weibo did. The company has reignited user growth, pushing its typical monthly audience to 340 million people and its stock market value above $16 billion in May. (That marked the first time it passed Twitter's 328 million regular users.) Unlike Twitter, which is valued at $13 billion, Weibo is profitable; its share price is hovering around $75, more than quadruple the IPO price.
"It's safe to say people were surprised," says Kirk Boodry, an analyst at New Street Research. "There have been times when investors were much less optimistic about prospects."
Much of Weibo's success in the past couple of years has resulted from the company's willingness to chase users other social media services ignore. Starting in 2014 it ramped up partnerships with cheaper smartphone brands that are popular in rural mining and farming areas, preloading its app on more than 20 companies' phones.
Chao says Weibo recognized fairly quickly that audiences in less developed parts of China had less time for and less interest in making their own posts or creating lists of accounts to follow. And while rural incomes were about one-third those of city workers, the lack of entertainment options meant rural users still had disposable income for apps. So Weibo began tailoring feeds based on user behavior and signed up hundreds of local celebrities, TV stations, and even police departments to contribute posts. Singer Xie Na now has 92 million followers. Celebrity Taiwanese couple Ruby Lin and Wallace Huo announced they were dating via Weibo, and posts related to their ­wedding attracted 7.6 billion views, according to the company.

To sustain these efforts, Chao became Sina's largest shareholder. He invested $456 million in 2015, borrowing half the money from Credit Suisse Group AG. "As a big shareholder, I'm more in the position to make long-term decisions for the company," he says. That gave some investors more confidence in the company's prospects, says Brendan Ahern, chief investment officer at Krane Fund Advisors LLC, a Weibo investor.
Chao's eagerness to make friends has meant compromises. To preempt complaints from government officials, Weibo employs a staff of thousands to monitor its service and remove posts it worries could anger Beijing. While civil libertarians and some users decry this censorship, Chao says the epidemic of fake news on Facebook and Google seems evidence enough that more top-down control is warranted. With Weibo's share price growing, there's also more pressure to prove its service is as indispensable as WeChat's, says Nick Liang, founder of hedge fund IMeigu Capital Management Ltd. and a former investor in both businesses.
For now, Chao is focused on expanding Weibo into areas including news aggregation and live video streaming. The app has also created an internet finance subsidiary that Chao says will be able to use its parent's data to offer low-risk loans to people without much of a credit history. The new company is applying for licenses from national regulators. In that arena, though, it'll have trouble unseating WeChat owner Tencent Holdings Ltd. and Chinese e-commerce leader Alibaba Group Holding Ltd.
Weibo can't be everything to everyone, but it can use its reputation as the home of news, video clips, and media to keep driving ad growth. Boodry, the New Street researcher, says he's been particularly impressed by Weibo ads that, when clicked, automatically fill in a user's mailing and payment data on the opening link. And Chao says his 18 years at Sina help keep him confident. "Fundamentally, I believe in the story," he says. "If you cannot bet on something big for the future, you don't have a future." —With David Ramli and Taylor Hall
The bottom line: Weibo passed Twitter in monthly users and market value in May, largely because of interest from beyond China's larger cities.
Before it's here, it's on the Bloomberg Terminal.
LEARN MORE