Trump Seizes on London Attack as Leverage in Travel-Ban Case
By
President tweets while London authorities in emergency mode

White House has asked Supreme Court to revive executive order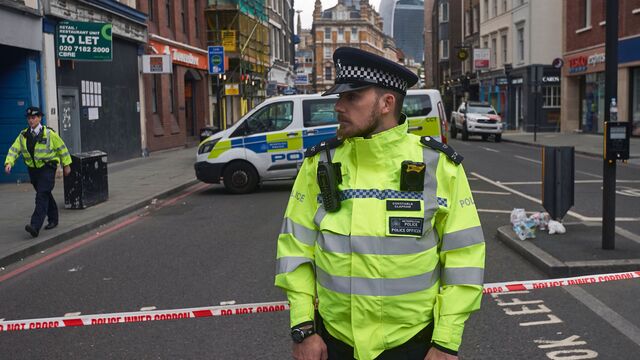 President Donald Trump wasted no time using another terrorist attack in London to argue for U.S. courts to reinstate his travel ban focused on people from predominantly Muslim countries.
"We need to be smart, vigilant and tough. We need the courts to give us back our rights. We need the Travel Ban as an extra level of safety," Trump said on Twitter, before U.K. Prime Minister Theresa May said the incidents were being treated as a potential act of terror. He later phoned May and offered condolences for the "brutal terror attacks," according to a White House statement.
Six people were killed in Saturday night's attack in London. A van swerved into crowds on London Bridge, before three men got out of the vehicle and went on a stabbing rampage through nearby bars in a popular nightlife spot of central London. The men, who wore hoax suicide vests, were shot dead by police, taking the total death toll to nine.

British authorities provided no immediate information on the likely source of the attack, but May said in a statement: "I can confirm that the terrible incident in London is being treated as a potential act of terrorism." No one has claimed responsibility for the attack.
It wasn't immediately clear whether Trump -- who was briefed by his national security team, according to spokesman Sean Spicer -- had additional, non-public information about the attacks at the time he sent his message on Twitter.
The White House on Thursday asked the U.S. Supreme Court to immediately reinstate Trump's stalled travel ban, aiming to reverse a string of courtroom losses since the measure was first introduced in January and then amended in March.
At issue is Trump's executive order temporarily barring entry into the U.S. by people from six predominantly Muslim countries in what the White House has described as an effort to protect the country from terrorists.
The administration asked the court to let the ban take effect while the justices decide whether to review a lower-court ruling that said the policy was "steeped in animus and directed at a single religious group."
About eight minutes after his original tweet, Trump followed up with an expression of concern: "Whatever the United States can do to help out in London and the U.K., we will be there - WE ARE WITH YOU. GOD BLESS!"
Before it's here, it's on the Bloomberg Terminal.
LEARN MORE