Rest Assured. China Has Its Economy's Back
Bloomberg News
Government bond yields have surged along with 7-day repo rate

Mizuho says monetary tightening probably won't derail economy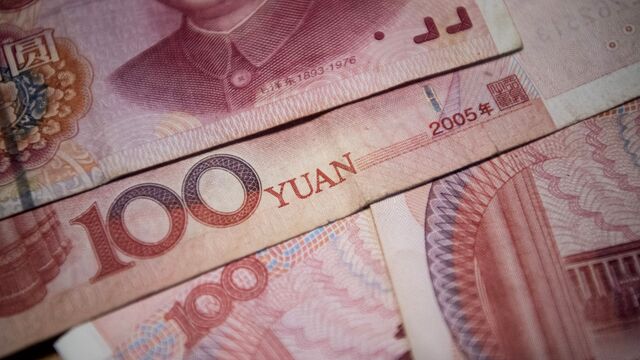 The People's Bank of China has surprised many with its tolerance for market pain as it squeezes leverage in parts of the financial system.
But rest assured, China won't clamp down so hard it endangers President Xi Jinping's goal of keeping growth above 6.5 percent, according to economists from Morgan Stanley, Mizuho Securities and Oxford Economics.
"Some in global markets are concerned that China's monetary tightening risks nipping in the bud the current, still fragile, global recovery," says Louis Kuijs, Oxford's head of Asia economics in Hong Kong and a former World Bank and International Monetary Fund economist. "In our view the risk of an excessive policy tightening in China leading to a sharp reduction in economic growth is low, for the simple reason that the senior leadership does not want that to happen."
Policy makers this year have been vocal in intensifying measures to clamp down on shadow banking, illegal local government financing, and debt-financed bond investments. But there's a quieter policy imperative in play as well: guaranteeing economic stability before a twice-a-decade transition of senior Communist Party officials this fall.
Policy Coordination
Improved policy coordination among regulators means the crackdown on financial leverage isn't likely to cause a hard landing for the economy or a liquidity squeeze, Robin Xing, chief China economist at Morgan Stanley, told reporters at a briefing last week in Beijing. He sees exports picking up as the global economy improves.
That's not to say the one-two punch of regulation and tightening isn't having an impact. The seven-day repurchase rate, a benchmark for interbank liquidity, averaged 2.93 percent last month, the highest since March 2015, according to the National Interbank Funding Center.

The yield on 10-year government bonds surged by about 100 basis points since August to a two-year high of 3.69 percent on May 10, ChinaBond data show. Mainland stocks have been whipsawed in the process.
As it tightens, the PBOC may constantly tweak policy to avoid a major credit event or surge in market rates, as shown by resumed credit injection operations, Wang Tao, head of China economic research at UBS Group AG in Hong Kong, wrote in a recent report.
The central bank continues making net injections by giving more loans via its Medium-term Lending Facility than the amount maturing each month, data compiled by Bloomberg show. The targeted and longer-term loans aim to offer liquidity support to the real economy.
Broader gauges suggest that the pace of credit growth isn't falling off a cliff. Growth of M2 money supply on a yearly basis was 10.5 percent in April.
After the economy's strong start this year -- with the first back-to-back acceleration in seven years in the first quarter -- economists project full-year expansion will slip to 6.6 percent from last year's 6.7 percent pace. That would still be in line with the government's target of "around 6.5 percent, higher if possible" it set in March.
Yet recent indicators have been mixed. The official factory gauge held up in May, but a private gauge signaled contraction for the first time in 11 months. Additional signs of weakening momentum include sliding metals prices and satellite imagery of China's industrial facilities.
Rising rates, combined with shrinking industrial profits, could possibly lead to higher debt risks, and even trigger a "Minsky moment" -- a sudden collapse in asset values -- in China, Ming Ming, former PBOC official and now analyst at Citic Securities Co. in Beijing wrote in a report Friday.
As the interbank market is expected to experience further bouts of liquidity tightening, the real economy will soon feel the pain as well, Nomura Holdings Inc. analysts Yang Zhao and Wendy Chen said in a report on Monday. 
"However, we believe the authorities will prevent a full-blown liquidity crunch in June," they wrote. "As such, the rise in financing costs for the real economy should be mild."

On Saturday, PBOC Deputy Governor Chen Yulu said China will pursue "neither loose nor tight" monetary policy to ensure basically stable liquidity. The central bank will maintain a "prudent and neutral" stance and create a "neutral and moderate" financial environment for supply-side reform, Chen told the Tsinghua PBCSF Global Finance Forum in Beijing.
Even amid the deleveraging campaign, investor sentiment has improved from last year's concerns about a potential hard landing, according to Shen Jianguang, chief Asia economist at Mizuho Securities Asia Ltd. in Hong Kong.
"The risk of over-tightening is small as policy makers are striking a balance between controlling financial risks and maintaining stable growth in the run up to the leadership reshuffle during the 19th Party Congress," Shen wrote in recent a note. "Newly found momentum in the export and consumer sectors should also keep growth resilient."
— With assistance by Miao Han, Helen Sun, Ling Zeng, Heng Xie, Yinan Zhao, and Emma O'Brien
Before it's here, it's on the Bloomberg Terminal.
LEARN MORE