Trump's Climate View Is Closely Held Secret at Leaky White House
By and
President avoided talking about science in ditching Paris deal

Trump's views have been closely held secret at White House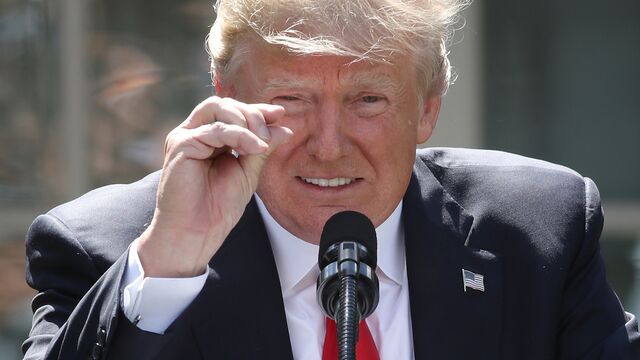 President Donald Trump insists he's an environmentalist. Yet on the biggest issue of the day -- the origins of climate change -- his exact position remains a mystery.
Trump's ambassador to the United Nations gave a hint on Saturday, though: Nikki Haley said Trump believes the world's climate is changing, and that man-made pollution is playing a role in that.
In Trump's 31-minute remarks in the White House Rose Garden on Thursday, pulling the U.S. out of the Paris climate accord, the president never stated his personal view about whether climate change is man-made. Questioned about the president's view, press secretary Sean Spicer earlier in the week said, "Honestly, I've never asked him."
At a briefing on Thursday, administration officials chided reporters asking Trump's views on climate science to stay on topic. Just Friday, his environmental chief Scott Pruitt was asked about Trump's views on the origins of global warming.
"All the discussions we've had for the last several weeks" have focused strictly on whether Paris was a good deal for America, Pruitt said. When it was pointed out that he still hadn't answered the question, Pruitt responded: "I did answer the question."
Haley filled in some of the blanks on Saturday while defending the administration's decision to exit the climate accord.
Trump "believes the climate is changing. And he believes pollutants are part of that equation. So that is a fact. That is where we are," Haley said in an excerpt from an interview to run in full on CNN's "State of the Union" on Sunday.
"Just because the U.S. got out of a club, doesn't mean we aren't going to care about the environment," she said. The U.S. will "continue to be leader in the environment" but do so "under our terms."
The "club" Haley referred to is comprised of almost 200 countries, with Syria, Nicaragua, and now the U.S. the notable holdouts.
Trump has put forth various views in the past. He joined a 2009 letter calling on then-President Barack Obama to lead on fighting the dangers of climate change. But as his criticisms of Obama increased over the years, so did that of climate science. He suggested in 2012 that the concept of global warning was "created by and for the Chinese in order to make U.S. manufacturing non-competitive" -- a claim he's neither backed away from nor repeated lately.
Read More: Paris Exit Leaves Trump Isolated From C-Suites to Capitals
This isn't merely about semantics. The mystery over Trump's climate views could complicate U.S. efforts to negotiate greenhouse gas reduction agreements with other countries -- the kind of new deal Trump said he would be willing to pursue as he announced his Paris decision. If climate change is a hoax, after all, why would it make sense to force China or India to further curb their use of fossil fuels?
Midterm Elections
"The idea that it's a hoax really makes you look like even more of an outlier than not wanting to do anything about it," said Jennifer Marlon, a research scientist with the Yale Program on Climate Change Communication.
This debate could also inject climate science into the 2018 midterm elections and the presidential race in 2020.
Trump frequently mentions that he is "someone who cares deeply about the environment." In meetings with European leaders in May, he mentioned the environmental awards his company has received, and he's pledged to protect clean air and clean water even as he repeals governing greenhouse gas emissions.
In recent years, Trump has issued scores of tweets deriding climate change and the global effort to fight it. In 2012, he said global warming was "based on faulty science and manipulated data."
What Did Trump Just Do? The Paris Climate Withdrawal Explained
And in November 2012 Trump joked about needing global warming while it was "freezing and snowing in New York" -- a theme he returned to again in January, March and December the following year as well at least three times in 2014.
"This very expensive GLOBAL WARMING bullshit has got to stop," Trump tweeted in January 2014. "Our planet is freezing, record low temps, and our GW scientists are stuck in ice."
Trump later cast his hoax assertion as a laugh line. "I often joke that this is done for the benefit of China," Trump told "Fox & Friends" in January 2016, adding: "China does not do anything to help climate change."
There is an almost universal scientific consensus on the issue. In 2013, the Intergovernmental Panel on Climate Change reported with 95 percent confidence that humans are warming the planet. And that warming is becoming harder to ignore: The 10 hottest years on record all happened since 1998 -- and 2016 was the warmest ever, followed by 2015.
Read More: Trump Nominees Accept Global Warming -- But Only to a Degree
"At this point the White House does not want to say that climate change is a hoax," said John Coequyt, head of international climate programs for the Sierra Club. "That is not a position that is supportable by the facts or embraced by the public. And when they say things like that, it makes them look crazy."
Americans who worry "a great deal" about climate change rose to a three-decade high of 45 percent this year, up from 37 percent in 2016, according to a Gallup poll. But they remain deeply split about whether climate change is caused by human activity. In a survey last year by Pew Research Center, just 45 percent of respondents agreed that the Earth is getting warmer mostly because of human activity.
The views break along party lines. While 79 percent of self-described liberal Democrats surveyed by Pew said human activity is causing the Earth to warm, just 34 percent of moderate Republicans and 15 percent of conservative Republicans agreed. 
What Comes of Paris Climate Accord Without U.S.: QuickTake Q&A
The partisan split may explain why top Trump administration officials have approached the issue gingerly, with carefully worded assertions that the climate is changing but it is not clear how much -- or how to meaningfully address it. The formulation allows them to avoid accusations that they are "climate deniers," while also dodging any explicit acknowledgment that the use of fossil fuels is a factor, much less a specific prescription for addressing the phenomenon.
"What the president is not doing is saying he's not going to try to improve the climate," Commerce Secretary Wilbur Ross said on NBC. Trump is saying that the Paris agreement "is destructive of economic growth."
"He is an environmentalist," Ross says. "I've known him a long time. He's
very pro-environment."
— With assistance by Toluse Olorunnipa
Before it's here, it's on the Bloomberg Terminal.
LEARN MORE