Slower Hiring, Unemployment Drop Give Mixed U.S. Labor Signs
By
Wage growth remains slower than peak of previous expansion

Participation rate declines, as does underemployment rate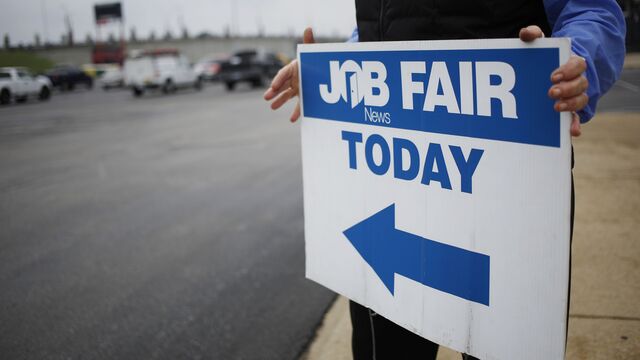 The U.S. labor market gave mixed signals in May, with a decline in the unemployment rate to a 16-year low contrasting with below-forecast hiring and wage growth, Labor Department figures showed Friday.
Highlights of Employment (May)
Payrolls rose 138k (est. 182k rise); March-April revisions subtracted 66k jobs
Unemployment rate, derived from a separate survey of households, fell to 4.3% (est. 4.4%) from 4.4%
Average hourly earnings rose by 0.2% m/m (matching est.); climbed 2.5% y/y (est. 2.6%)
Key Takeaways
Cooler hiring may partly reflect the challenge of finding skilled and experienced workers amid a tightening job market. It may also be a sign businesses are reluctant to expand their workforce until they see more evidence the new administration's plans are translating into legislation that'll reduce taxes and spur growth. Even so, with the revisions, the three-month average of payroll gains was the weakest since 2012.
The decline in the unemployment rate -- while a sign of a tightening job market -- was also due to a drop in the size of the labor force, as the number of people classified as employed and unemployed fell by roughly the same amount.
Even with the figures, economic growth is likely to rebound this quarter and the U.S. is near full employment, helping explain why Federal Reserve policy makers are expected to raise interest rates when they meet June 13-14. Sustained hiring amid a shortage of skilled workers should eventually lead to an acceleration in wages.
One calendar quirk that may have depressed wage gains in May was that the 15th of the month -- when workers who are paid semi-monthly get their checks -- fell on the Monday after the survey week, which includes the 12th. This has distorted the wage readings in the past.

Economist Views
"Job growth is a little disappointing, but enough to continue tightening the labor market," said Michael Feroli, chief U.S. economist at JPMorgan Chase & Co. in New York. "This doesn't change the overall story of an economy that generally seems to be growing above trend and reducing slack."
"This keeps the Fed on track" for a June interest-rate hike, said Feroli, who formerly worked at the central bank. The latest reading on payrolls is within a reasonable deviation of the recent trend, he said.
Other Details
Participation rate, or share of working-age people in the labor force, decreased to 62.7 percent from 62.9 percent
The U-6 or underemployment rate fell to 8.4 percent, lowest since November 2007, from 8.6 percent; rate includes part-time workers who'd prefer a full-time position and people who want a job but aren't actively looking
The measure known as part-time for economic reasons fell by 53,000 people to 5.22 million
Private employment rose by 147,000 (forecast was 175,000) after a 173,000 increase; government payrolls fell by 9,000
Factory payrolls fell by 1,000, construction was up 11,000; retail payrolls declined 6,100, the fourth straight drop; and leisure and hospitality employment rose by 31,000
Average work week for all workers unchanged at 34.4 hours (forecast was 34.4 hours)
Wages declined in manufacturing, utilities and professional and business services; pay rose in retail, construction, information
— With assistance by Vince Golle
Quotes from this Article
Before it's here, it's on the Bloomberg Terminal.
LEARN MORE