politics
Trump Adviser Cohn Open to Concessions on U.S. Debt Ceiling
By and
Mulvaney, Cohn counter Mnuchin's request for clean bill

Budget director has downplayed risks of U.S. default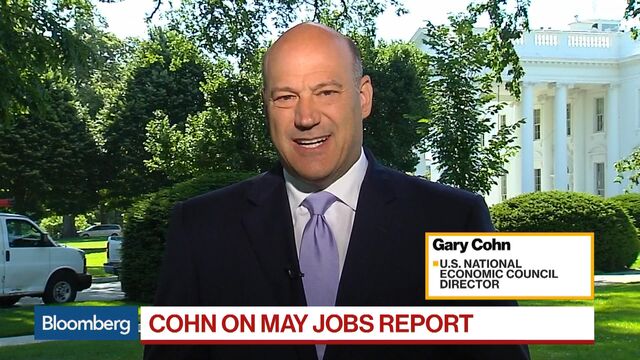 President Donald Trump's chief economic adviser said Friday that Congress has no choice but to vote to raise the government's borrowing authority, and that the White House will consider spending cuts or other riders to avert an unprecedented default.
Gary Cohn, the National Economic Council director, appeared to align himself with Trump's budget director, Mick Mulvaney, and against Treasury Secretary Steve Mnuchin, who has said Congress should pass a "clean" bill to raise the debt limit. The internal administration dispute has become unusually public. 
"At the end of the day, Congress is going to raise the debt ceiling because they have no other choice," Cohn said in an interview on CNBC, brushing aside objections by conservative lawmakers who question the need to increase the limit.
"Treasury secretary would love to do a clean debt ceiling -- I get that. But if we need to get things attached to get it through, we'll attach things," Cohn continued.
The U.S. is expected to reach its debt ceiling -- a legal limit on how much the government can borrow -- by as soon as August. If Congress doesn't act to raise the ceiling, the government would default for the first time in its history.
Embolden Conservatives
"The one thing you can say about the debt ceiling discussion, there's absolutely no way that the U.S. will ever default on its debt," Mulvaney said Friday in a Facebook Live interview with the New York Times. "We are not going to do that. You can take that off of the table."
The early signal from Cohn and Mulvaney that the White House will make concessions for votes in favor of a debt increase is likely to encourage House conservatives to dig in on their demands for steep reductions in spending, complicating the task of passing the measure through both chambers of Congress. The administration would have to win over more Democrats to counter any Republican defections.
For their part, Democrats are more likely to insist on their own concessions, such as an assurance that the administration will continue making Obamacare subsidy payments to insurance companies.
The division within the Trump administration over how to avoid a default on the national debt burst into the open this week.

Mnuchin had signaled in congressional testimony a preference for a so-called "clean" bill to raise the debt limit, one without any spending reductions or other policy riders.
But Mulvaney, who is also a member of the Trump Cabinet, contested Mnuchin in an interview with the Washington Examiner published Wednesday, saying he would "like to see things attached to it that drive certain spending reforms and debt reforms in the future." He said Mnuchin didn't necessarily represent the administration's position.
Mulvaney said in the Facebook Live interview that he has no conflict with Mnuchin and the two spoke about the matter on Friday.
"We've not settled on a final policy" to raise the ceiling, Mulvaney said.
Challenging Tradition
The public comments from Mulvaney and Cohn also challenge the Treasury secretary's traditional role as primary spokesman on matters involving U.S. government debt.
The White House and Treasury don't even agree on when the debt ceiling will be reached. Mulvaney said it could be as early as August. Mnuchin has only said in the second half of the year, more in line with analysts' estimates of October or November.
The wrangling between the White House and Treasury over when the government will run out of money and what to do about it adds to the chaotic political backdrop of the Trump White House. In previous administrations, it would have been unusual for an internal administration dispute to emerge so publicly. It complicates congressional action, where lawmakers are not yet able to tell what the president would like them to do.
Still, investors showed no signs of alarm, in part because they are accustomed to political grandstanding preceding an inevitable debt-ceiling increase.

"We have to put things in context, as far as the confusion coming out of the White House overall," said Jim Caron, a senior fixed-income portfolio manager in New York at Morgan Stanley Investment Management, which oversees more than $400 billion. "Maybe we are just used to that kind of thing right now."
Mulvaney's perspective, he said, comes from drawing up a budget with "a lot of what-ifs. Mnuchin is looking at more hard data as we see it today, and this is what we project into the future."
History shows that there's a lot at stake.
In 2011, political paralysis raised the risk of default, contributing to S&P Global Ratings' decision to downgrade the U.S. to AA+ from AAA, the first-ever sovereign rating reduction for the country. In October 2013, an 11th-hour deal reopened the government after a 16-day partial shutdown. The protracted conflict caused a spike in rates on Treasury bills whose payments were due between late October and mid-November. The overall added costs to taxpayers ranged from $38 million to more than $70 million, according to a study by the Government Accountability Office.
Read more: Rich Americans Hasten a Trump Headache: Raising the Debt Ceiling
"We are far enough away from the debt ceiling, so markets are not focused on it so much now," said Ward McCarthy, chief financial economist at Jefferies LLC in New York. The sparring between Mnuchin and Mulvaney "is just another example of the chaotic state of play in D.C. at the moment. Nothing is getting done."
The conservative House Freedom Caucus, which Mulvaney co-founded as a representative from South Carolina, said last month it will continue to demand that any debt-limit increase be paired with measures to cut or cap spending.
The group has about three dozen members, which could be enough to prevent Republicans from passing a debt-limit bill on their own. In 2015, the last time House Republican leaders had to address the debt ceiling, they relied mostly on minority Democrats to provide enough "yes" votes for a bill -- suggesting Democrats will have significant leverage in the coming debate.
Democrats have applauded Mnuchin for calling for a clean increase, warning that any repeat of Republicans' attempt in 2011 to use the debt ceiling to force a budget-cutting agreement would damage the economy.
— With assistance by Toluse Olorunnipa
(
Adds Mulvaney comments beginning in sixth paragraph.
)
Before it's here, it's on the Bloomberg Terminal.
LEARN MORE