U.K. premier expressed 'disappointment' in call with Trump

Germany, France and Italy release joint statement of 'regret'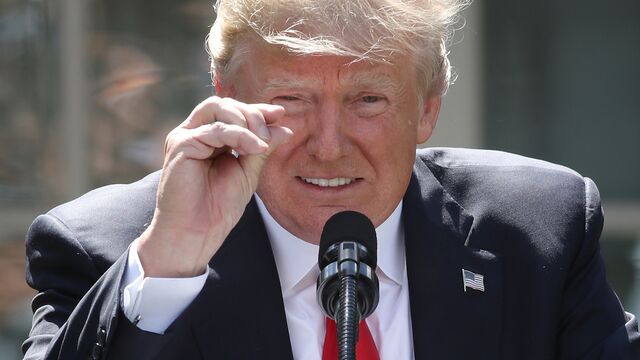 U.K. Prime Minister Theresa May took her time to respond to President Donald Trump's pullout from the Paris Agreement on climate change, and the way she did so speaks volumes about where her allegiances lie.
The German, Italian and French governments all reacted individually within an hour of Trump's announcement on Thursday, before putting out a joint statement saying they "take note with regret" of Trump's decision, and describing the accord -- put together over years of negotiations -- as "a cornerstone in the cooperation between our countries."
May chose not to join those three nations in defending the accord, and her own muted reaction came almost three hours after Trump's announcement in the form of an email statement, which said the prime minister had "expressed her disappointment" to Trump when he had called her. In the final week of a tightening election campaign, her political foes saw an opening to attack.
The prime minister "has instead opted for silence and subservience to Donald Trump," Labour leader Jeremy Corbyn, her main rival, told supporters in York on Friday. "This is not the type of leadership Britain needs."
Up to Trump
May's reluctance to come down strong on Trump suggests that with Brexit negotiations drawing closer, May is distancing herself from her European partners and casting her eyes across the Atlantic to a U.S. administration with which she wants to broker a trade deal.
For hours, her party pointed only to remarks she made earlier in the day during a rally when she was asked specifically about how she'd feel if Trump ruled against the accord. Her answer was measured: "It's up to the President of the United States to decide what position the United States is going to take."
That contrasts with the dismay expressed by European colleagues. Belgian Prime Minister Charles Michel called the withdrawal a "brutal act" while German Chancellor Angela Merkel had been vocal in trying to sway Trump not to retreat from the climate deal. French President Emmanuel Macron gave a video address from the Elysee Palace in English, calling the withdrawal "a mistake."
May sought to counter criticism in a BBC interview on Friday, saying she wasn't alone in not signing the joint statement by France, Germany and Italy, and that she had expressed "clear" views to Trump at last week's G-7 meeting and again in Thursday's phone call.
"I made it clear that the U.K. would have wanted the United States to stay within the Paris Agreement," she said. "Canada and Japan have not signed that letter, neither has the U.K., but we all have the same view that we remain committed to the Paris agreement."
For environmental activists, May's demure words mark a retreat from Britain's long-trumpeted position as a leader in the global fight against climate change. Scotland's First Minister Nicola Sturgeon accused May of an "appalling abdication of leadership."
It's not the first time May has been criticized for pandering to the Trump administration. After becoming the first foreign leader to see the president in the White House in January, May announced Trump would come on a state visit to the U.K. later this year. That led to more than 1.8 million Britons signing a petition urging her to retract the invitation.
"You have gone to Washington to hold Donald Trump's hand, now is the time to hold his feet to the fire," said Tim Farron, leader of the Liberal Democrats, which formed a coalition with May's Conservatives from 2010 to 2015. "If the special relationship between the prime minister and Mr. Trump actually exists, it exists for moments like this. We need to make him see sense on climate change."
Before it's here, it's on the Bloomberg Terminal.
LEARN MORE