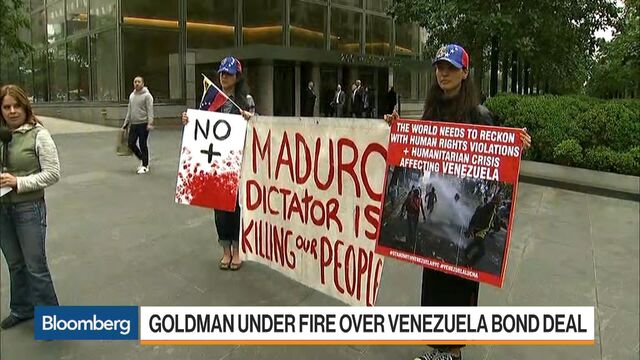 With Venezuela relying on oil revenue for 95 percent of its foreign-currency earnings, and crude prices depressed, President Nicolas Maduro faced a choice: maintain steady imports of food or continue making payments on overseas notes. He chose the latter. His critics say he's prioritizing his political survival over his constituents' needs and have dubbed government debt under his rule "hunger bonds." Opponents struggled to bring attention to the movement until May, when Goldman Sachs Group Inc. made a big purchase that provided the regime with desperately needed dollars. Critics pounced on what they saw as a soulless investment bank throwing a lifeline to a despot. "Hunger bonds" became one of the themes of a demonstration outside Goldman's New York headquarters, and the phrase showed up in tweets and memes featuring images of malnourished Venezuelans scavenging for food. The opposition-controlled National Assembly vowed to investigate the deal.
1. Is Maduro really starving his people to pay off investors?

There's certainly an argument to be made. With a severely constrained supply of cash, Maduro has kept up bond payments while sharply curtailing imports of food, medicine and other basic goods. A study showed that the average Venezuelan adult lost 19 pounds last year due to food shortages. Avoiding default serves Maduro's political interests by preserving the status quo. At the same time, some analysts argue that a messy debt default could have far-reaching consequences, including the seizure of Venezuelan assets around the globe that could make living conditions even worse at home.
2. How did the term 'hunger bonds' originate?
Venezuelan businessman Jorge Botti first used the phrase in October 2016 in a post to his Twitter followers (who today total about 17,000) as part of his effort to raise awareness about suffering in the country. A former bondholder himself, he decided in 2015 that he couldn't justify accepting interest payments and sold his stake. The term is a play on the "Hunger Games" books and movies, in which a teenager leads the resistance against a fictional totalitarian state.
3. What exactly did Goldman Sachs do?
The Wall Street Journal reported that the bank's asset-management arm bought $2.8 billion of securities from the state oil company through a broker at 31 cents on the dollar. The transaction appeared to boost Venezuela's international reserves, perhaps giving Maduro breathing room as he tries to survive a surge in deadly street protests and awaits an upturn in oil prices. The opposition-led Congress in an April letter had appealed to Wall Street bankers to refrain from helping Maduro's government stave off default, arguing that otherwise they would be effectively supporting a dictatorship. Maduro has been battling lawmakers over the nation's finances since the opposition won control of the National Assembly in December 2015 elections.

4. How did Goldman respond?
Rejecting any moral culpability, it said it didn't provide cash directly to the government because the bonds were purchased from a broker. In a statement, the bank said Venezuela's situation "is complex and evolving" and that life there "has to get better. We made the investment in part because we believe it will."
5. How do the critics see the investors' role?
Opposition lawmakers, academics and activists decry the willingness of debt investors to turn a blind eye to the chaos that's overtaking Venezuela in exchange for interest payments on bonds, most of which trade at around 50 cents on the dollar. The argument is that providing financing props up a regime whose corruption and incompetence have ruined a nation that's home to more untapped oil wealth than any other country on earth. Harvard University professor Ricardo Hausmann, an economist and former Venezuelan minister of planning, says that holding the notes puts investors in the position of rooting for payments to be made even as the population suffers. A default, he says, would put investors in the position of agitating for the right to seize Venezuelan assets, which should belong to the Venezuelan people.
6. What do holders of the bonds say?

Investors argue that choosing between paying the bonds and feeding the population is a false dilemma -- both would be possible if the government wasn't rife with corruption and mismanagement. Much-needed reforms like loosening of foreign-exchange controls, curbing inflation and luring foreign investment to the oil sector could keep the government current on its bond payments without requiring such deep sacrifices from the population. There's also no guarantee that any debt relief under the current administration would improve living conditions.
7. Will the 'hunger bonds' movement succeed?
The aim is to draw attention to the crisis in Venezuela and get investors to boycott the country's bonds. The first part may already have been accomplished, but changing investors' behavior isn't so easy. Bond buyers typically don't spend much time fretting over the moral implications of their purchases, especially considering that autocracies often beat democracies when it comes to returns and that Venezuela has posted some of the world's top gains. And there's also the problem that Venezuelan bonds make up a big chunk of the emerging-market bond indexes that portfolio managers are judged against. It would be hard for them to justify their fees if their performance is inferior because they're missing out on the super-high yields offered by the country's debt.
The Reference Shelf
— With assistance by Nathan Crooks
Before it's here, it's on the Bloomberg Terminal.
LEARN MORE