White House Waivers Let Trump Appointees Work With Past Clients
By
Kellyanne Conway OK'd to work with 'advocacy, trade' groups

Staffers plucked from RNC can talk 'broad policy' with party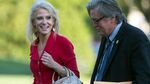 President Donald J. Trump's White House granted 14 waivers of its ethics rules, including to top advisers on politics and energy issues, allowing them to weigh in on matters that could affect their own financial interests and those of their former employers and clients, according to documents the administration released today.
The waivers, issued by the White House Counsel's office, allow administration appointees to take part in decisions from which federal ethics rules and Trump's own policies would require them to recuse.
The documents show that hiring former lobbyists and political operatives with long client lists has sometimes required Trump's White House to choose between its ethics pledge -- which would prevent workers from dealing with matters involving former clients -- and the use of its employees. The administration released the waivers in response to a request from the government's federal ethics agency.
"It is an important step to see this list to see who is getting waivers and what is waived," said Meredith McGehee, chief of policy, programs and strategy at Issue One, a group that seeks to limit the impact of large donors on politicians. "Transparency is the key element for a White House which has basically declared it's immune from conflict of interest laws and standards."
"Trump's staff should get credit for engaging to the extent they did here," said Fred Dombo, a partner with Nossaman LLP. "It shows that the president has a basic appreciation for the importance of disclosing to the public exactly who's working for them."
'News Organizations'
Two broad waivers seem designed to allow key appointees to communicate with former employers. One allows executive office staff to "participate in communications and meetings with news organizations regarding broad policy matters." It would appear to allow chief strategist Steve Bannon to talk to Breitbart News, the conservative media site he ran before joining Trump's campaign and White House staff.
A second allows White House appointees to meet with political organizations including Trump's campaign committee and the Republican National Committee "regarding broad policy matters" and some particular matters if authorized by the White House. That would allow Chief of Staff Reince Priebus and press secretary Sean Spicer to communicate with the RNC, and Bannon and senior adviser Kellyanne Conway with Trump's campaign.
Conway previously worked as a pollster and consultant to a wide range of conservative organizations, including Freedom Partners and the National Rifle Association as well as trade associations like the American Road and Transportation Builders Association. She received an individual waiver to "participate in communications and meetings involving former clients which are political, advocacy, trade, or non-profit organizations."
The White House also allowed Michael Catanzaro, a former lobbyist for energy industry clients, to "participate in broad policy matters and particular matters of general applicability relating to the Clean Power Plan," and rules related to the waters of the U.S. and methane. Catanzaro, the special assistant to the President for domestic energy and environmental policy, is the top White House official in charge of rolling back environmental-protection regulations.
Group's Complaint
A group that has sued Trump, alleging ethics violations stemming from his business holdings, said the waivers -- which were posted to the White House website at about 7:30 p.m. in Washington Wednesday, show the administration has no interest in ethics.
"No one has believed for months that this president or his administration had any interest in ethics, but these waivers make clear the remarkable extent to which they are comfortable mixing their own personal interests with the country's," said Noah Bookbinder, executive director of Citizens for Responsibility and Ethics in Washington. "It's no wonder they waited for the cover of night to release them."
The White House disclosures came as a response to a government-wide "data call" issued on April 28 by Walter Shaub, the director of the U.S. Office of Government Ethics. Other federal agencies will also submit the ethics waivers for appointees, but have not announced whether they will disclose them publicly.
'No Transparency'
Two weeks earlier, Shaub had told the New York Times that, "There's no transparency, and I have no idea how many waivers have been issued," after media reports indicated that former lobbyists in Trump's administration might be involved in matters that could benefit their former clients.
Office of Management and Budget Director Mick Mulvaney initially disputed OGE's authority to request the documents. "In particular, this data call appears to raise legal questions regarding the scope of OGE's authorities," Mulvaney wrote in a letter to Shaub dated May 16. He later clarified that the administration intended to comply with OGE's request after Shaub responded in a nine-page letter that OGE "declines your request to suspend its ethics authority," adding that "public confidence in the integrity of government decision making demands no less."
The OGE director has clashed with Trump and his team over ethics issues before, notably the president's decision not to divest his assets.
Shaub took the unusual step in January of publicly criticizing Trump's decision to retain his ownership interests. "Officials in any administration need their president to show ethics matters, not only through words but also through deeds," he said in an appearance at the Brookings Institution. "This is vitally important if we're going to have any kind of ethics program."
Before it's here, it's on the Bloomberg Terminal.
LEARN MORE